Podcast: Play in new window | Download
As I write this article, Major League Baseball players and ownership remain unable to come to an agreement to start their season by, perhaps, the end of July. The 2020 season would last for no more than half of its traditional (and overly long) 162-game slog.
Why haven't they reached a deal yet? The players want to be paid on a prorated basis based on the number of games they play. So, your $10 million shortstop who hit a paltry .235 last year would still make $5 million in 2020 for playing half the normal number of regular season games.
The owners of Major League Baseball teams, though, have responded by offering the players a percentage of their pro rata salaries to account for losses at the gate and to cover team personnel costs as the 2020 baseball season will likely be played without fans in the stands due to the 2020 C-virus pandemic.
Though it seems quite logical to me as a sports fan but apparently not to the players, MLB teams are admitting that they actually do make more money when fans show up at their home ballparks! According to one source, the average baseball team will lose about $640,000 per home game if the MLB teams choose to play in empty stadiums in 2020.
The baseball players apparently don't appear to care if the owners take a loss by playing games in empty stadiums this year. They just want their prorated salary based on the number of games they eventually decide to play.
This dispute between the players and the management of MLB teams seems petty, but it points out something very important which is occurring in the year 2020.
Do fans in the stands really matter anymore in professional sports?
You bet we do!
The NBA is getting ready to find out soon. After announcing that the basketball league will resume its season in late July in a "bubble" location at Walt Disney World, the games will all be played without fans in the stands.
As you and I watch an NBA game via television later this summer, it will become painfully obvious that NBA games played in an empty gym may be about as entertaining as watching a competitive pick-up game played at your local YMCA.   
Sure, there will be referees and, who knows, maybe even an organist will be there to play those same silly songs every single time the home team has the basketball.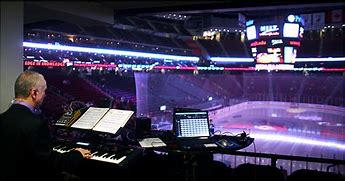 Let's hope that the NBA will not provide uncensored courtside audio during these games.  No, I am not talking about some pleasantry such as, "Hey, Joe.  I believe that your shoe laces are untied!" 
The NBA might want to strongly consider posting a "Colorful Language Warning" on the television screen during games if live microphones are placed close to the action in an empty gymnasium. The real sounds heard on the floor of an NBA basketball game aren't rated PG (even by today's standards). Most basketball fans are tuning in for 3-point bombs and not F-bombs.
Unlike Major League Baseball, the NBA is a revenue sharing sports league.  That means that losses incurred during the 2020 Disney World basketball conclusion will be borne proportionately by the owners and the players.   Since the already high prices for NBA tickets usually double in cost during the playoff season, the league and its players will lose a significant amount of ticket revenue during the 2020 playoffs.
As we know, television is the biggest revenue driver for most professional sports leagues such as the NBA, NFL, and Major League Baseball.
In 2017, the NBA generated about $7 billion in revenue with their national television contract representing about 35% of the total.  Local and regional television and radio packages are next in terms of team revenue, while home game ticket sales and merchandise sales provide additional profits for the teams.
Major League Baseball, which brings in about $10 billion per season, has lucrative national television deals, but most MLB teams earn a substantial portion of their revenue from local and regional television and radio deals. The Los Angeles Dodgers, for example, generated over $200 million in local television rights during 2016.
According to one source, Major League Baseball in-stadium ticket revenues were nearly $3 billion in 2019.  That would represent about 30% of baseball's total. The $3 billion figure does NOT include revenues for lucrative concessions, team merchandise, and other income-producing activities at the ball parks during home games every season.
Lest we not forget, Major League Baseball, like all other professional sports, employs a small army of support staff to run all of the administrative tasks related to putting a team on the field.  Team owners must pay for their salaries and benefits, too.
The National Hockey League rakes in a surprising $4 billion per season.  Unfortunately, hockey's national television deals (both Canadian and US) are worth only about $500 million per year to the NHL.  The league depends quite heavily on their lengthy season to bring in sufficient local television/radio revenues and ticket-related sales to keep operations going.
Over the past weekend, the PGA Tour played the first tournament in its history without paying fans on the course to cheer and support their favorite golfers.  
I watched much of this golf tournament on television and, being brutally honest, quite enjoyed the lack of clutter on the grounds of Colonial Country Club in Fort Worth.  Without all of the grandstands erected to support golf fans around the greens and without those ugly leaderboards placed all over the course, the golf being played at this event seemed to move along at a quicker pace than usual, too.  
On Saturday and Sunday's CBS telecasts, the golfers actually played 18 holes in just about four hours!  That was an improvement of up to one full hour faster compared to the snail-like pace of pre-pandemic PGA tournaments played in front of adoring golf crowds.   
From a revenue standpoint, most PGA Tour events are not financially viable without a significant financial guarantee from a primary tournament sponsor (such as Charles Schwab this weekend).  The men's tour also has a sweet television deal worth about $700 million per year.   Revenues from local ticket sales usually are applied to offset the costs of golf course set-ups required for those same fans and cover the administrative costs of running the event.   Profits, if any, are often awarded to worthy local charities. 
In other words, golf might be able to survive without paying fans on the course if the title sponsor of the event is willing to sacrifice its local advertising "glow" for more of a national television exposure.
If television ratings are higher this year for tournaments without fans on the course, golf may have to do some thinking about how they want future golf tournaments to be run.
It is quite unlikely that professional baseball, basketball, football, and hockey would be willing to sacrifice the significant revenues derived from their local fans unless some type of pay-per-view game package would be financially supported by local and national fans of the franchise.
That's just not likely to happen anytime soon.
Sports fans who can already watch their local teams on ad-supported local television and radio stations are likely unwilling to dole out enough incremental cash to cover the costs of playing games inside of an empty ballpark.
Let's face it. The team's fans help make the atmosphere on television more appealing to watch, too. Can you imagine the first Green Bay Packer who attempts to do a "Lambeau Leap" into an empty end zone after scoring a touchdown this year in Wisconsin?
Now THAT will be funny!
Remain patient, sports fans!  Your favorite sports teams actually do need us more than we need them.