Podcast: Play in new window | Download
*Note – This story initially published on Tuesday 4/21 (hosting issues). My apologies…
Finally, a "normal" sports day is coming this week! On Thursday night, Round 1 of the NFL draft will take place. Round 2 and 3 are scheduled on Friday while Rounds 4, 5, 6, and 7 will wrap things up on Saturday.
Sure, there won't be a big crowd to applaud and, for New York Giants fans, to boo their choices in person. I'm going to miss that, aren't you?
However, this is basically NFL's version of going to the grocery store to select one or more items from various sections to complete their team.
Some of the NFL's best teams in the past few years (New England, New Orleans, and, lately, San Francisco) have been known to trade down for more late round "hamburger" picks rather than go for a first round "steak". The best teams always seem to know what they are shopping for at the NFL Draft Supermarket and are ready to make a deal to the perennial losers.
Some NFL teams head to the annual draft with lofty aspirations and, a few years later, learn that their shopping skills are just plain terrible.
Let's take a look at the #1 pick in this year's NFL draft. The Cincinnati Bengals were 2-14 last season and are now on the clock. The entire football world expects the Bengals to select LSU quarterback (and native Ohioan) Joe Burrow.
However, Cincinnati's track record for building their team with first round talent has been a bust. Below is a list of the Bengals top picks for the past eleven seasons: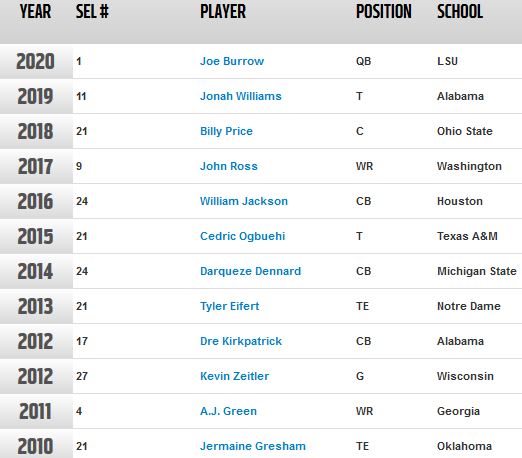 Other than oft-injured wide receiver A.J. Green, there aren't many names you should recognize on this list. Most of the past ten top draft picks by Cincinnati have not developed into All-Star talent.
Though most of that blame is simply making bad decisions on draft day, blame can also be attributed to a coaching staff which is unable to develop the player's skills and the athlete for failing to work hard enough to improve his performance and eliminate deficiencies.
Given that a franchise like Cincinnati needs a lot of help to become a playoff contender, would it make sense for them to trade this year's number one overall pick and accumulate more high round draft picks to fill holes?
Many questions like this abound as the NFL draft approaches on Thursday. Let's play "NFL Draft – Deal or No Deal" and examine a few situations:
Question #1 – If Miami offers Cincinnati all three of their first round draft picks (#5, #19 (from Pittsburgh), and #26 (from Houston)) in exchange for Cincinnati's overall #1 pick, should the Bengals take the deal?
Evaluation: Given the Bengals' need to get a roster full of more talented players, this would appear to be a very good deal for the Bengals. At the #5 spot, the Bengals could grab one of the remaining top quarterbacks (likely to be Oregon's Justin Herbert or Alabama's Tua Tagovailoa) and then add two additional talented players with the other two first round selections.
On the other hand, we're talking about a team which has bungled the majority of its first round draft picks the past ten seasons. The probabilities favor of Cincinnati making poor selections with at least two of the three first round picks.
SwampSwami says: NO DEAL! Cincinnati should keep the pick, draft Joe Burrow, and make better selections with the top pick of rounds 2 through 7. The hopeful Bengals fans will buy more season tickets to see if Ohio's Burrow turns out to be the savior of the franchise. This franchise needs both talent and hope right now.
Question #2 – Should Alabama quarterback Tua Tagovailoa be picked by one of the top ten teams during the first round of the NFL draft?
Evaluation: To me, this seems pretty simple. Tua's hip injury is rare, but it is one that could quickly end his professional career if a similar injury were to occur. It makes the most sense that Tua's best long-term chance for success would be to go to a team with an established quarterback and give him a year or two to learn the NFL systems and give his body more time to heal.
Unfortunately, the media's unrelenting hype of Tua's talent (which was not hurt by playing with other NFL-quality players while at Alabama) means it is highly likely that he will be drafted as the quarterback "savior" early in this NFL draft by a team desperate to win.
Cincinnati will select Joe Burrow. The next nine picks in the first round are Washington, Detroit, NY Giants, Miami, LA Chargers, Carolina, Arizona, Jacksonville, and Cleveland.
Washington, the Giants, Arizona, and Cleveland all picked quarterbacks either last year or the year before. Miami, the Chargers, Carolina, and Jacksonville (which I believe will be located in London soon – but we'll cover that in another story) could use a starting quarterback.
Based on my theory, Detroit still has veteran Mathew Stafford and could groom Tua to take over at quarterback in a few years. However, it would be gutsy for the Lions to use the #3 overall pick to select Tua Tagovailoa when their team has other needs to fill, too.
SwampSwami says: NO DEAL! Though most of us SEC fans like Tua and his story, it would be a mistake for any team (other than Detroit) to select him with one of the first ten picks of this draft. That said, I fully expect that one of the NFL's perennial losers within the top ten the NFL draft, will, indeed, select Tua with an early first round pick.
Question #3 – Will the New England Patriots make a rare deal to move-up in the first round to select quarterback Jordan Love to replace Tom Brady?
Evaluation: Losing one of the best quarterbacks in the history of the NFL will be tough for fans of the New England Patriots. Though the media (as usual) is hyping the need for the Patriots to make a bold move to draft the next Tom Brady, remember that Tom Brady was a sixth-round pick!
New England is set to pick at #23 in the first round of the NFL draft. By that time, Joe Burrow, Justin Herbert, and Tua Tagovailoa will be long gone. The general consensus is that Utah State quarterback Jordan Love might be the best talent available into the middle rounds of this draft.
Love's statistics in college (20 TD's and 17 interceptions in 2019) showed he is capable of making some terrific athletic plays, but he also made far too many mental mistakes with so many pass interceptions.
Those stats don't reveal the "Tom Brady" kind of guy who can excel in New England under a task master coach like Bill Belichick. The Patriots seem to value intelligent and tough-minded players who are able to flawlessly execute their role on the team. The quarterback of the Patriots must be on the same mental page as their head coach.
SwampSwami says: NO DEAL! Jordan Love may be able to help some NFL team in this draft, but I would be very surprised if New England opted to move up in the draft to pick him. I doubt that New England will select Love if he is still available at the #23 position.
Regardless of how my predictions play out, it will be fun to see the NFL draft on Thursday night. A bit of sports normalcy finally will return.
Even if your favorite team makes another head-scratching selection in the first round of the draft Thursday night, maybe we should cut them a little slack…at least for this one year!