Podcast: Play in new window | Download
Subscribe: RSS
The calendar has just turned to March. For much of America, spring is just around the corner.
For those of us living in the deep South, signs of the season are here as the weeds are in full bloom.  The tree pollen is sprouting and is getting thick enough to change the color of my dark blue car to green. 
Yes, it's officially wheezing and sneezing season!
It is also time to start thinking about college basketball and the NCAA March Madness men's college basketball tournament. Let's take a look at the college basketball landscape as the ball dribbles down the home stretch of the season:
The traditional blue bloods are still looking good. Kansas is currently #1 and is loaded with talent. The current #2 team is Gonzaga. Could this finally be the year for the Zags? Also in the hunt are #6 Kentucky, #12 Duke, # 14 Villanova, and #16 Michigan State.
But who are these guys? On the other hand, would anyone have thought that teams #3, 4, and 5 would be the Dayton Flyers, Baylor Bears, and San Diego State? Me, either.
What about last year's champion? Virginia is lurking at #22 this week and has been on a late-season winning streak. UVa's suffocating defense makes for low-scoring games and gives them a chance to win every game remaining.
Don't believe the media hype! There are far too many (eight!) Big Ten teams in the AP Top 25 right now (#9 Maryland, #16 Michigan State, #18 Iowa, #19 Ohio State, #20 Penn State, #23 Illinois, #24 Wisconsin, and #25 Michigan). Compare that with perennial contenders from the Atlantic Coast Conference. Only four ACC teams are currently ranked (#7 Florida State, #10 Louisville, #12 Duke, and #22 Virginia). More on that in a moment.
Don't forget these mighty mites! Lurking outside of the AP Top 25 are small school vote-getters like Butler (20-9), Stephen F. Austin (27-3), East Tennessee State (27-4), Northern Iowa (25-5), New Mexico State (24-6), St. Mary's (24-7), Vermont (24-7) and Belmont (24-7).
Whatever happened to…? The University of North Carolina! The once-mighty Tar Heels are mired in last place in the ACC with an overall record of 13-17. The Heels have only missed the NCAA Tournament just once in the past ten years. Roy Williams' team has lost more than its share of close games this season. Despite years of success, there are more and more fans calling for the 69-year old coach to step aside. Good grief.
As we prepare for that annual ritual called the March Madness bracket challenge coming in the next few weeks, I took a look back at the last twenty years of NCAA men's basketball champions. It is quite instructive to review this list a little closer before you make your annual charitable donation at work.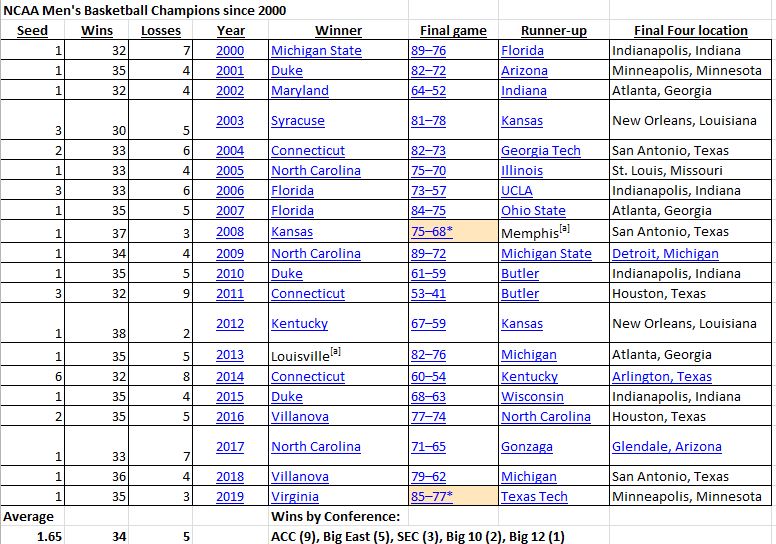 As they say, stats don't lie.
If you want to pick a winner, the "average" NCAA March Madness winner was ranked as a #1 seed 14 out of 20 years (70%). There have been two #2 seeds win it all, three #3 seeds, and one #6 seed become champions.
Since you have to win six straight post-season games in the NCAA tournament to win the title, the average winning team has already posted an average of 28 wins before tipping off in Game #1. The average winning team lost only 5 games during the season (a low of two with a high of nine).
Suggestion – do NOT pick a team with ten or more losses heading into the NCAA tournament to win it all. Based on our 20-year historical review, I would avoid selecting Big Ten teams such as Iowa (20-10), Wisconsin (19-10), and Michigan (19-11) as they already have exceeded the ten loss criteria.
DO – try to find an Atlantic Coast Conference team with 28 wins and/or less than ten losses. Since the ACC has won nine of the past twenty March Madness events, they are your best chance to win. The Big East is next with five championship trophies, then the SEC (3), Big Ten (2), and Big 12 (1).
Despite my love for selecting the underdogs, you will notice that there are zero champions from the mid-majors and smaller basketball conferences.  This means that it's best to take your chances with picking a few upsets with your favorite small schools in one or more of the early round games and then send them home before the Final Four (which is being held in the cavernous Mercedes Benz Dome in Atlanta this year).
In the early rounds, keep your eyes on senior-dominated teams which happen to win their upcoming conference championship tournaments, too. They can ride some momentum for a few games in the Big Dance, but the blue bloods normally have taken over by the Final Four.
When in doubt, refer to the stats above when picking your eventual champion. Though the statistical championship mold may be broken in 2020, your chances to win the office pool are higher by playing the odds.
Even though I played competitive basketball for many years, I have never won an office pool during my lengthy professional career. So ignoring my advice might not be a bad option, either!
Some people like to select teams based on the color of their uniform.  When in doubt, you could also just select a few names out of a hat! 
Pay closer attention over the next two weekends, and have some March Madness fun!