Podcast: Play in new window | Download
Subscribe: RSS
I'm ba-a-a-ck! After a brief vacation which ended before this medical lockdown started, the sports world has gone into its own shutdown over the past week and left many of us feeling a bit out of sorts.
Seriously, it's time to be smart and listen to the experts right now. This, too, shall pass. Eventually.
You might be stuck at home with a couple of young kids. Others might be still working every day in the medical field or another service profession.
Most people are doing well and not going into panic mode (other than Mr. Whipple and the Great Cornholio, that is!).
We need a pleasant distraction!
Without the annual NCAA men's basketball tournament being played for the first time since 1939, sports fans could use an outlet to take their mind off other issues right now.
SwampSwami.com feels your pain! We deserve a chance to root for our favorite men's college basketball teams and see how they do in the post-season tournament.
The SwampSwami Selection Committee (me) has spent countless hours determining a fair way to choose the participants in the 2020 Make Believe March Madness men's basketball tournament. 
First, your Selection Committee established some criteria for teams chosen for the field:
Automatic bids were awarded to conference tournament winners (there were a few before "you-know-what" ended the games last week).
Conference regular season champions (as awarded by their respective conferences) were next.
All teams in the most recent AP Top 25 were included in the field.
No teams in our tournament shall have a losing record in their own conference.
Preference is given to teams with 20 or more wins for the season.
The NCAA's own ranking system was also considered and weighed for decisions.
All decisions are final. If your team wasn't selected, the "Make-Believe NIT" awaits for the next 32 basketball teams. (I will reveal those teams and the rankings at the end of this post as well!)
Without further ado, below are the teams which will play (beginning tonight) in the SwampSwami.com Make Believe March Madness basketball tournament!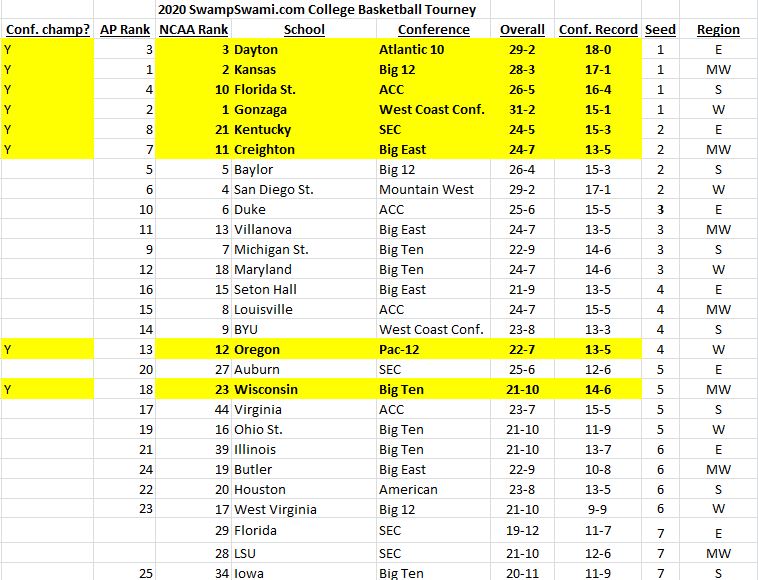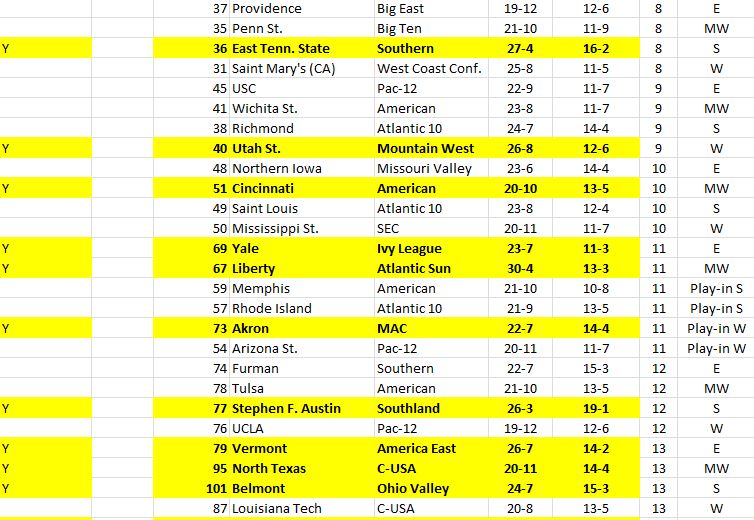 I have greater sympathy with the NCAA's annual Selection Committee members after this effort. However, I didn't travel to Indianapolis or spend a fortune on airfare, hotels, and food, either!
Let's now address some issues from fans of teams which have been left out of my tournament.
If your team did not win more games in the conference than they lost, what are your realistic chances of winning the national championship? Answer: Nearly zero.
Same goes for those teams with double-digit losses on the season.  There have been zero teams which have won the national championship in the new century with more than nine losses on the year.
Over the past twenty years, the average national champion has won 28 games and lost just five times before entering the March Madness tournament.
Time to answer a few questions:
How is this going to work?
Easy. I'll pick the winners and then publish them (with a faux write-up of the games) on the day after the "games" were to be played. I'll then adjust the brackets accordingly and move ahead as each round of games occurs. We'll finish with the National Championship game on Monday, April 6 and a story about the winners on Tuesday, April 7.
What method will be used to pick the winners?
I will utilize historic factors regarding upset probabilities, coaching, geographic considerations, and recent trends for teams ending the regular season.
Bottom line – I'll make it up as we go!
Do you already know who will be the winner?
Nope!  It will be much more interesting to let this play out round by round and see what happens.   This is a bit like how Tom Brady has been handling his free agency and who is going to come out the lucky winner!  We want to keep you coming back to see what happens.
Where are the four regional brackets?
Right here!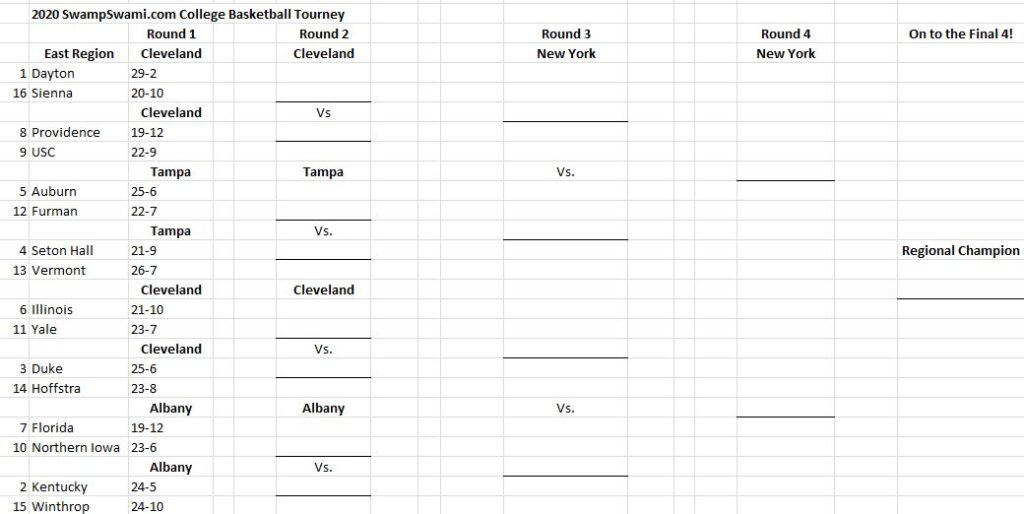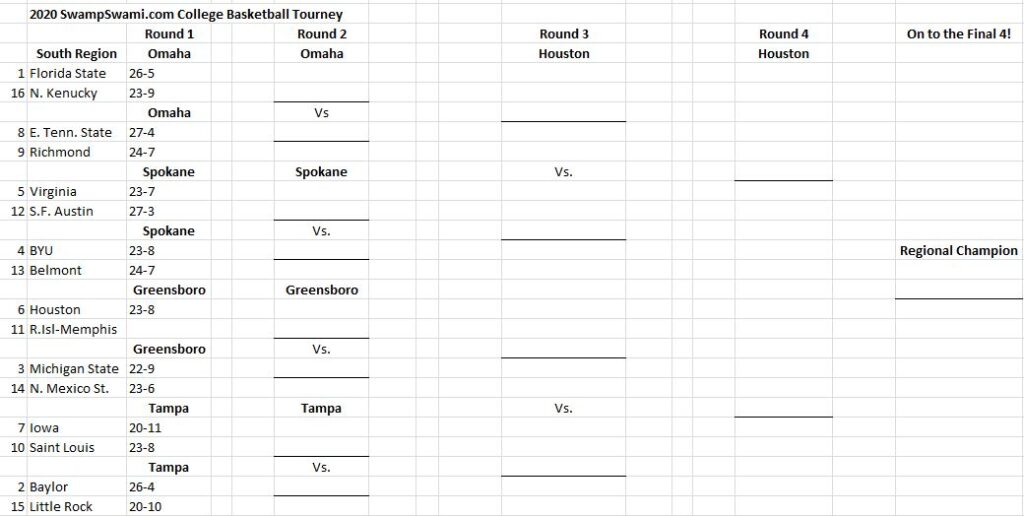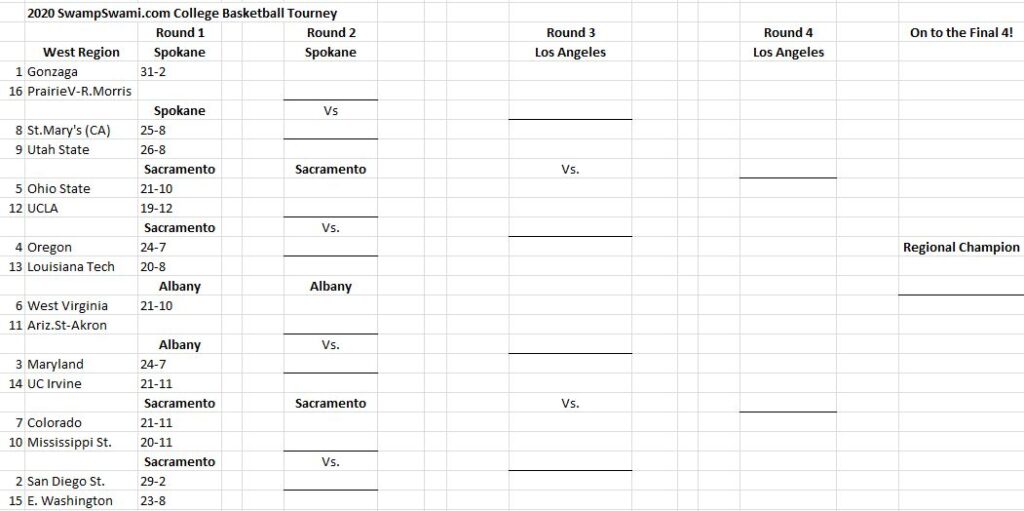 Why is SwampSwami.com doing this?
Easy! We really need something positive to entertain us right now for the next few weeks. I can't think of anything more exciting than March Madness, can you?
Can my office play along?
You bet (well, perhaps you shouldn't wager anything on this!). The more, the merrier!
Why did Louisiana Tech get invited into your field instead of Arizona or Michigan?
Because I graduated from there! Seriously, though, the Bulldogs went 13-5 in Conference USA and were in second place in the regular season. There were several bubble teams, but tough decisions had to be made. Next question!
For the record, just who are the other 32 teams invited to your fake National Invitation Tournament?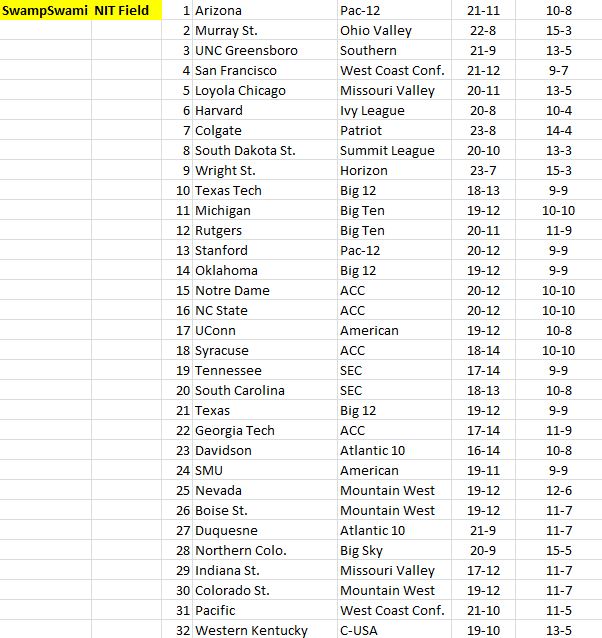 What's next?
Come back later this week to check-out the results from the opening round games as we pick the winners through the "Final Faux" games in early April!