Podcast: Play in new window | Download
It's almost here! The annual race to the finish line in college basketball is coming soon as the NCAA "March Madness" basketball tournaments (men and women) will select the field in the coming weeks.
Prior to the field being set, college basketball's landscape of conferences will enter into their annual tournaments, too.
For a large conference like the Atlantic Coast Conference (ACC), Southeastern Conference (SEC), or Big 12, there's no doubt that some college basketball teams will improve their likelihood of getting into the Big Dance by a late burst.
These are the so-called "Bubble Teams".
At this writing, they currently include a faltering LSU Tigers (18-8), Oklahoma (16-10), and Texas Tech (16-9).  A small committee of basketball gurus, coaches and administrators will convene over the final weekend of conference tournaments to determine which teams will get "at-large" bids to play in the tournament.
All 32 basketball conferences (including those which feature less-known schools like the Summit League or Southland Conference, for example) are awarded at least one spot in the March Madness basketball field.
Since college basketball began back in November, college basketball teams have competed playing their non-conference games and will soon conclude their remaining conference schedules.
With half of the field of 64 teams (actually, it's now 68 teams with the four schools participating in two so-called "play-in" games in Dayton, Ohio) coming from each of these basketball conferences, it's very important for the smallest conferences to send their very best team into the NCAA tournament in order to have a chance to win on the biggest stage.
For the regular season conference champions of a conference, they may receive a first-round or second round bye in their season-ending basketball tournament.  The team will still, though, need to dispatch at least two of their conference foes one final time in order to gain the conference's automatic bid to the NCAA March Madness field.
Unfortunately, the regular season conference champion doesn't always win this season ending basketball tournament. When that happens, the regular season champion is often left out of the NCAA's field of teams.
The regular season champion's so-called "strength of schedule" will be used (in part) by the NCAA's committee to determine whether the regular season champs (who just lost in their conference tournament) will still make the field.
Unfortunately, the truth is that most of the smaller basketball conferences will get one and only one bid to the Big Dance. 
Why would these conferences waste four months of basketball competition just to (possibly) send another of its teams which happened to get "hot" enough to win the season-ending conference basketball tournament into the NCAA's field of 64? 
Money, of course.
Just like the incredible number of relatively meaningless college football bowl games, these conference basketball tournament games are now shown on television. ESPN loves to televise these conference championship games to the nation.
The smaller basketball conferences reap a shining moment of "exposure" with a single televised game at the end of February or early March. 
It certainly makes for better theatrics (and ratings) to show a competitive conference championship game with excited fans in the stands pulling for one of these two teams as they slug it out for a chance to move into the NCAA's March Madness field.
But, when the #1 seed in a smaller conference tournament happens to lose to, let's say, the #4 seeded team in the tourney's finale, it also means that the league's "best" team will likely not be invited to the NCAA Tournament, too. The #4 seed in the conference (by virtue of a big win in the conference tournament finals) moves on to play in the Big Dance.
That team is nearly always guaranteed to have a first round exit, too.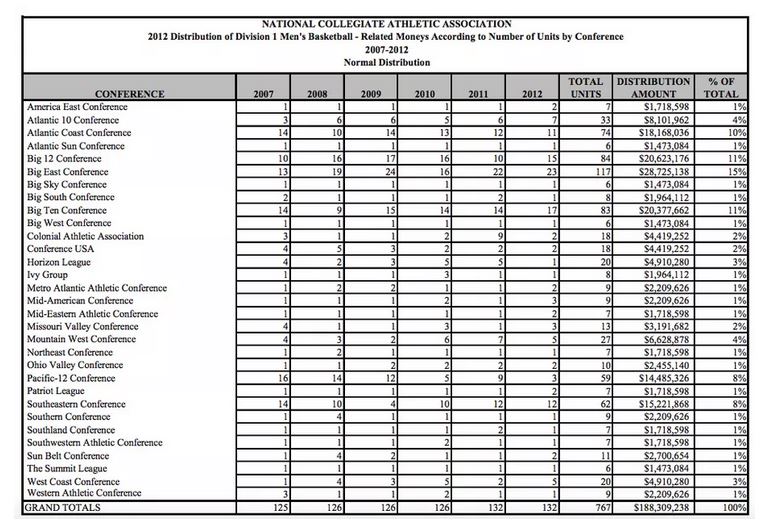 I'm not suggesting that the regular season conference winner always has a better chance to win a first round game in the NCAA tournament than another team which wins the conference tournament.
For the smallest conferences, though, a first round victory in the NCAA tournament can mean a whole lot more money for the conference over time.
According to a recent study, each school selected for the NCAA men's tournament earns its conference a projected $1.67 million over the next six years (as of 2016), broken into annual payments from the NCAA that will start with $260,500.
A team which keeps winning into the Final Four earns five units (about $8.3 million). The NCAA stops awarding units after the national semifinals.
Let's talk for a moment about the Southland Conference.  The current men's leader is Stephen F. Austin (22-3 overall and 13-1 in conference play).   The team has a three game advantage at the moment over second place Nicholls State (17-9 overall and 11-4 in conference games) with just five regular season games to go.
SFA has the biggest non-conference win in college basketball this season as the Lumberjacks defeated the Duke Blue Devils (22-3 and 12-2 in the ACC) 85-83 early in the basketball season.
The upset win snapped a 150-game (nearly 20 year) non-conference winning streak which the Blue Devils had owned at the famed Cameron Indoor Stadium basketball court since February, 2000.
You'd like to think that no matter what happens in the Southland Conference basketball tournament that the Jacks are a cinch to make it into the NCAA tournament on the basis of their strong record and win at Duke.
Wrong.
The NCAA's own website recently had Stephen F. Austin ranked as the 87th best team in the country this week. How is that even possible when they beat a Top 5 Duke team on its home court this season?

What that means is that it's entirely possible for the best team in the Southland Conference to be left out of the NCAA tournament unless it wins two more games in the conference basketball tournament in Katy, Texas in early March.
Let's say that the Southland's second place Nicholls State Colonels win the tournament instead of SFA.
Nicholls State fans will be pumped for going to the NCAA's for the first time in school history, but the odds are that they'll be going "one and done" as a 15th or 16 seed against an overwhelming favorite (like Kansas, for example).
Regardless, the Southland Conference would still earn one "share" from the NCAA's huge basketball fund and pocket about $1.7 (paid incrementally over a total of six years).
If SFA had been awarded the automatic bid as the regular season champion, the team would most likely earn a higher placement seeding based on its outstanding record (perhaps as high as an 11 or 12-seed). With the higher seed, the Lumberjacks would (theoretically) have a better chance to win their first round game (as they did back in 2016).
With a first round win by SFA, the Southland Conference would also double its payday, too. Another $1.7 million isn't chump change for a small conference.
Again, this isn't to disparage the chances of another Southland Conference team not-named-SFA. But this is a significant money issue for a regional conference.
Perhaps the Southland Conference (and the other smaller conferences competing for their one shining moment) is going to bank a lot of money on their end-of-season tournaments.
How much money will the basketball tournament for a smaller conference bring in?
If you filled every seat in the Katy, Texas basketball arena (5,000) for four nights at an average ticket price of $20/person, it would generate $400,000 in ticket sales for the Southland Conference. There's also revenue from concessions, programs, and other trinkets, but there are arena expenses, referees to pay, and other expenses, too.
Does the Southland Conference tournament earn enough money to risk sending a team which isn't the regular season champion to the NCAA March Madness tournament?
Did I hear you say, "Television money!"?
Isn't that always the reason these days?
ESPN holds the television rights to the Southland Conference basketball tournament. I doubt that ESPN would be happy to learn that the Conference #1 seed (SFA) was being crowned as the league champion (based on its stellar regular season performance) before the conference tournament even began.
Besides, how many basketball fans would show-up in Katy, Texas to watch the other Southland Conference teams play for second place and, perhaps, a chance to play in the National Invitation Tournament (NIT) instead going to the NCAA's March Madness event?
ESPN wouldn't like that very much, either, as they own the television rights for the entire conference basketball tournament shebang. Just like the college football bowl season, there aren't too many "live" sports events on television during late February and early March.
ESPN's "Championship Week" (which, ironically, is closer to two weeks in duration) is filled with basketball games from big and small conferences all around the country to see which teams can punch their ticket to men's basketball's big dance.
That also means hours and hours of opportunities for ESPN's advertisers to pitch their products during the last few weeks of chilly winter temperatures keep much of America inside watching television.
The tentacles of television money will keep a stranglehold on the Southland Conference basketball tournament and force the league's best team in 2020 to win another two games during early March to earn a chance to play in the NCAA March Madness tournament.
If Stephen F. Austin should happen to lose at the Southland Tournament, it's likely that the Lumberjacks will be sent to play on the road in the N.I.T. tournament as their consolation prize.
I would prefer to see SFA playing against a big conference school (such as LSU or Oklahoma) in an early round game of the NCAA tournament instead.
It still might happen, but SFA might have to win up to 30 regular season and conference tournament games just to earn the chance to beat another team like Duke again in the NCAA men's basketball tournament.
If SFA is left out of the NCAA's field of 64 teams, remember just how much money will go to one of those big-name conferences when one of their mediocre teams with 12-15 losses is awarded one of the final spots in the tournament field.
The NCAA Basketball Tournament Committee is not only doling out spots into their wildly popular annual basketball tournament field. They wink and nod at each other as they say that SFA's regular season schedule just wasn't as tough as some 14-game loser from the Big 10, for example.
If you need a sleeping aid, try reading this link to describe the tedious process showing how the final decisions are made on Selection Sunday.
Just keep it in mind that these NCAA kingmakers are also doling out nearly $2 million in guaranteed money to each conference (large and small) with those final "at-large" teams, too.
As for me, "Go get 'em, Jacks!"