Podcast: Play in new window | Download
Week #1 of the Yahoo! Sports Fantasy Football league playoffs is over.  Our fantasy football team (Swamp Gas) grabbed an early lead and then hung-on for a victory which was assured only after an overtime period played in Monday night's final game of the week.
The Methane Marauders knocked off rival Houston Hard Hitters (Triple H, for short) 129-119 as both teams scored more than their initially predicted number of points.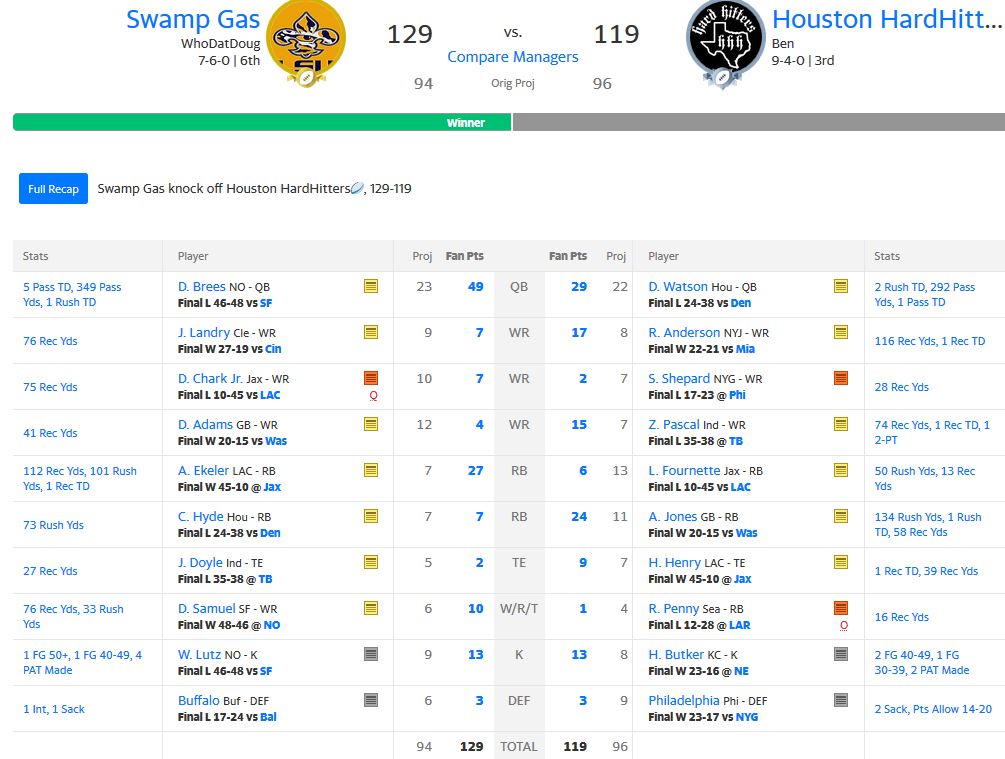 The team was led by a heroic 49-point performance from our Hall-of-Fame quarterback of the New Orleans Saints, Drew Brees. Despite the Saints crushing 48-46 loss to San Francisco on Sunday, Brees passed for 349 yards with five TD passes and one via the run. This all came in what was expected to be a defensive battle!
Our team (8-6) now moves into the second round of the Fantasy Football playoffs to face the #1 seed (the 9-4 oddly named team called "He Stole my Helmet!") this weekend.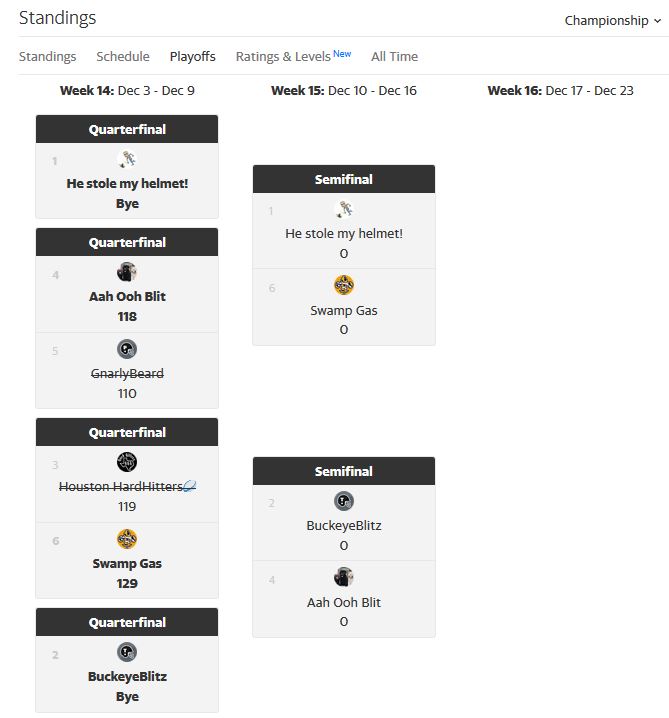 This also assures our Swamp Gas team of no worse than a fourth place finish this season.  Not bad for a team which the Yahoo! Sports graded as a "B-" before the season and no better than a sixth place finish.  They even poked fun of our 5th round pick of Los Angeles Chargers' running back, Austin Ekeler!  Here's what they said immediately after the draft:
"Reach Pick – Austin Ekeler:
Are you willing to share your secrets? We'd love to know what prompted the selection of Ekeler at No. 5. Projected to score 123 fantasy points this season with the Chargers, he'll look to perform similarly to last year when he ran for 554 yards and 3 TDs and had 39 receptions for 404 yards and 3 TDs in 14 games, posting 129 fantasy points. "
Dear Yahoo! Sports – Austin Ekeler of the Chargers has already scored 180 points for my team this season – including a game-clinching 27 points for Swamp Gas last week! You guys owe Mr. Ekeler and my team an apology!
Now, go away or I shall taunt you a second time!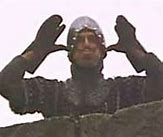 General Manager Comments – The GM is responsible for obtaining talent for the team so that there are productive players available for each week's games. This week, we have a myriad of injured players.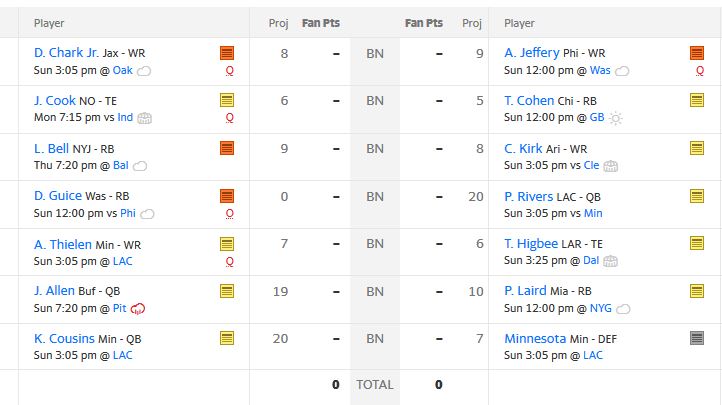 Last weekend, starting running back Le'Veon Bell (NY Jets) was a last minute scratch due to an apparent flu bug. Fortunately, we noticed this at the last minute and substituted Carlos Hyde of the Houston Texans (7 points off the bench).
Would you believe that media reports said that Le'Veon Bell (who wasn't well enough to play football on Sunday) was spotted at a New York area bowling alley on the night BEFORE the Jets were scheduled to play on Sunday? 
Both Bell and the Jets have underperformed this season, so we may need to look into obtaining another running back in the event he is suspended by the team this week.
Another running back concern is Washington Redskins (and LSU's) Darrius Guice.  He was injured (yet again) on Sunday and is officially "out" for this weekend's game. 
OUCH!
At tight end, normal starter Jared Cook (Saints) sustained a concussion in Sunday's game against the 49ers. This is the second concussion of the season for our tight end, so we'll probably go with back-up Jack Doyle (Colts) this week (ironically, against the Saints).
Coach's Corner – I learned something last week. DO NOT believe the CBS Sports' group with their "Start 'em" or "Sit 'em" predictions. They declared that Jack Doyle (Colts) was going to score lots of points in a match-up at Tampa Bay (worst pass defense in the league). That made sense to me. So, we picked-up Doyle and started him in place of Jared Cook (Saints) who was facing the league's best defense (San Francisco).
The results? Jared Cook scored two touchdowns and garnered 18 points in the FIRST HALF Sunday (before being knocked out of the game with a concussion). Doyle? He had a puny 27 yards good for only two points against Tampa Bay.
This bad decision nearly cost us a victory last weekend. I'll stick with our starters unless someone is injured or suspended (right, Le'Veon Bell?).
Yahoo! Sports is showing Swamp Gas as a nearly 30-point underdog in this week's second round of playoffs.  Will our team rally for victory once again?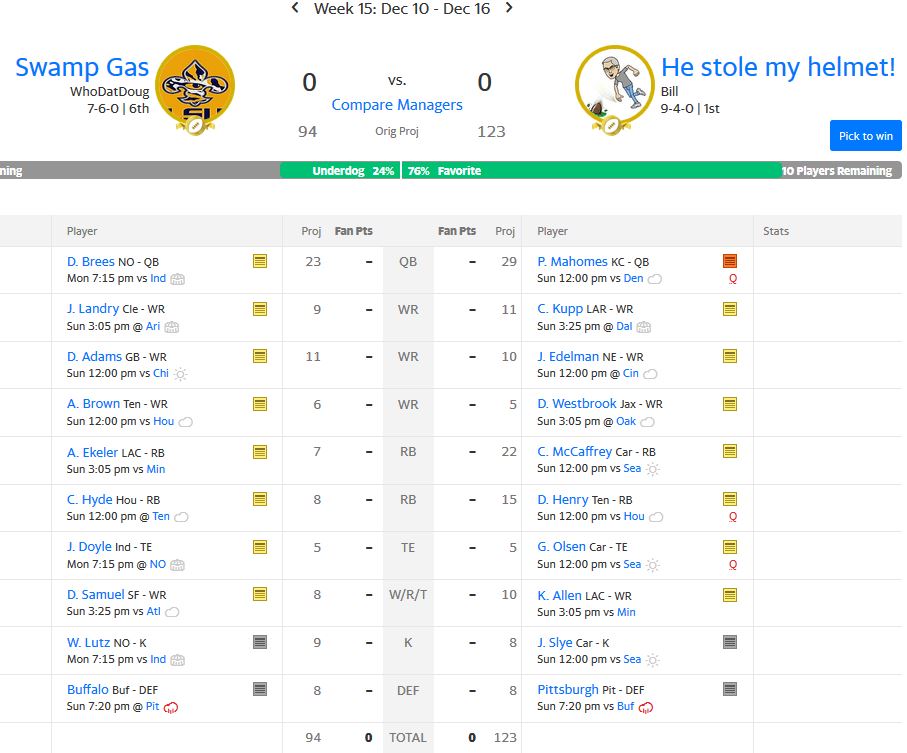 We'll find out soon! Come back next week…