Podcast: Play in new window | Download
After a brief break for Thanksgiving, it's time for an update about our experiences this season participating in the world of fantasy football.
During this fall football season, I have shared many of the decisions which have been required to (a) draft our fantasy football team (b) make weekly personnel moves (due to injuries or poor performance) during the season, and (c) make the week-to-week decisions as to which players to start and which ones to keep on the bench based on expected performance, weather conditions, and other factors.
This week, I am proud to announce that our fantasy team (Swamp Gas) finished the regular season with a winning record (7-6) and has found its way into the first round of the league's playoffs beginning this weekend.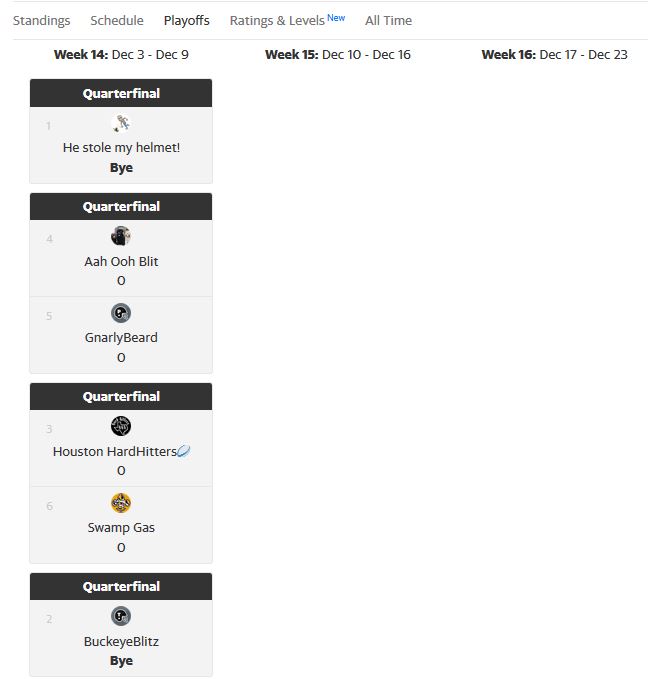 Over the Thanksgiving break, our team finally has broken out of its recent offensive slump and has tallied 128 and 108 points in each of the past two weeks. Though Swamp Gas went 1-1 over the Thanksgiving holiday, many of our players seem to be hitting their stride again at the right time.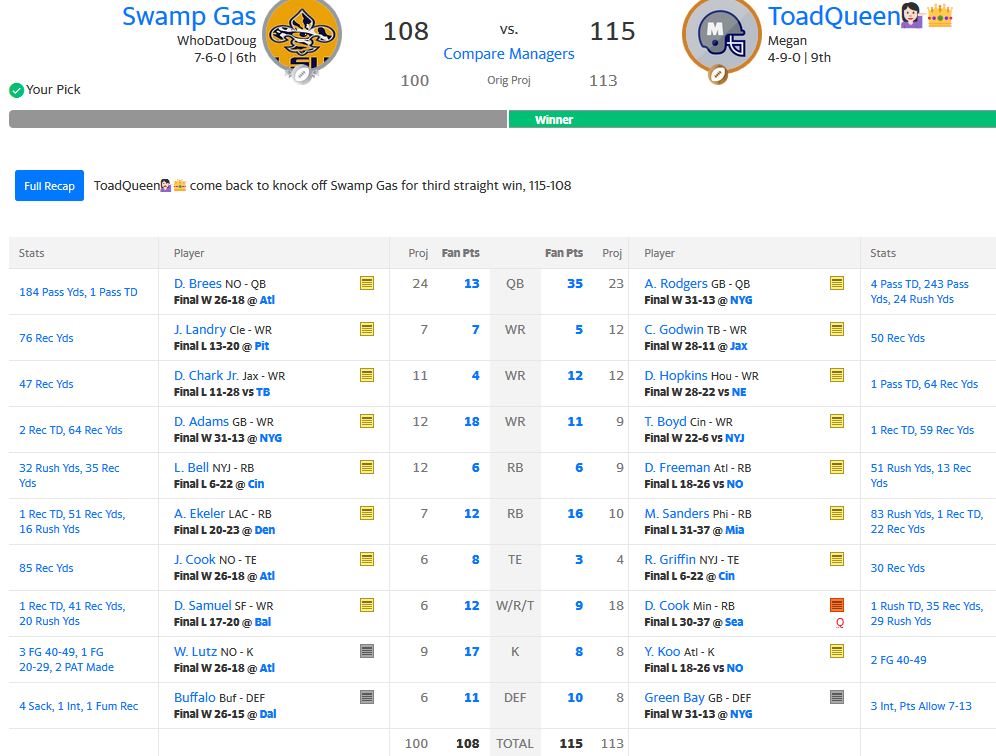 That's the good news.
The bad news? Our team features three New Orleans Saints players (QB Drew Brees, TE Jared Cook, and K Wil Lutz). The Saints will play on Sunday against the NFL's top defense in the San Francisco 49ers. That will make for some tough decisions this week as this game is not expected to be a high scoring affair.
Let's dive right in and do our best to put the best team on the field for this first week of Fantasy Football Playoffs!
General Manager Comments – The GM is charged with stocking the fantasy football team with enough players (healthy and performing at a high level) to give the Coach enough options to be competitive from week to week.
During this past two week stretch, it has been gratifying to see that recently acquired players such as Deebo Samuel (WR-San Francisco) and Darrius Guice (RB-Washington) are playing well and scoring significant points.
On the flip side, our back-up tight end T.J. Hockenson (Detroit) appears to have suffered a potential season-ending injury over the weekend. We may opt to find a highly productive offensive player (QB, for example) and hope that starter Jared Cook (Saints) keeps performing well. We can always grab a back-up Tight End in the free agent pool, if necessary.
Coach's Corner – The playoffs are here, and, sadly, it looks like several of our "star" players are in difficult defensive match-ups this weekend. For example, our Hall-of-Fame QB Drew Brees (Saints) is facing the 49ers top ranked defense this weekend on Sunday in the Superdome. Yahoo! Sports believes that Brees will struggle to reach 20 points, so we must consider the alternatives. Alas, our back-up QB Josh Allen (Bills) is on the road at AFC leader Baltimore on Sunday. Ouch.
If our GM locates a productive QB in a weak match-up this week (such as Kirk Cousins of the Vikings against the struggling Detroit Lions), we may consider making this difficult choice.
On the other hand, it's hard to go against Drew Brees at home in the Dome against any opponent. Having 73,000 wild and crazy Who Dat fans is bound to produce some positive plays for the hometown Saints, right?
The early projections show us as a 14-point underdog this weekend in the first round of the Fantasy Football playoffs. We'll need a great game from our starting group and hope that our opponent doesn't meet his weekly projected point total.