Podcast: Play in new window | Download
According to a Mark Knofler song, sometimes you're the windshield, and sometimes you're the bug!
For the past month, my Yahoo! Sports fantasy football team named "Swamp Gas" can certainly identify with that song. After being squished with regularity as our team struggled to put enough fantasy points on the board during our three game losing streak, we finally became the windshield this week in a resounding 140-60 victory over the league's top ranked team.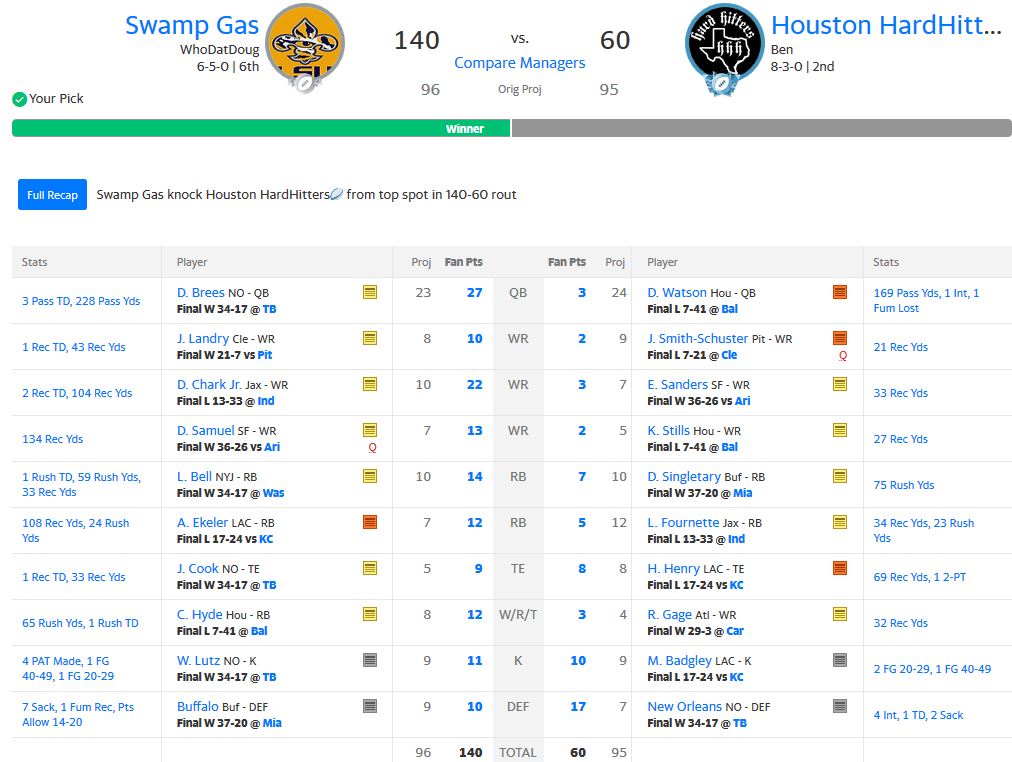 After failing to score more than 100 points in a game in six weeks, the point drought for my Methane Marauders finally ended with a surprising 140 point week as the team moves to a 6-5 record.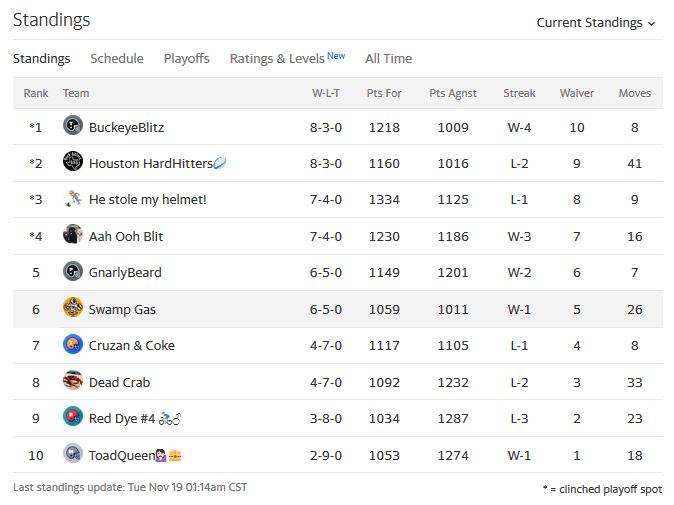 Every starting player on our roster contributed at least 9 points or more with QB Drew Brees (Saints) leading the way with 27 points and LSU/Jacksonville WR D.J. Chark adding another 22 points last week.
Let's now chat with our happy management team and learn where we go from here:
General Manager comments – As the GM's responsibility is to assemble the talent for this team, it is gratifying to see most of our starting players back in the line-up this week and performing well. Unfortunately, we have lingering concerns about the hamstring injury for starting wide receiver Adam Thielen (Vikings). We acquired Deebo Samuel (49ers) last week, and he immediately contributed 13 points as a replacement. Obviously, we are pleased with the results, and now it is important to win more games to make the playoffs!
For this coming week, we will not have starting RB Austin Ekeler (Chargers) available due to his team's bye week. We now have former LSU star Darrius Guice (Redskins) healthy and ready to insert into the line-up if needed. We do not plan to add or drop any players this week.
Coach's Corner – As the Coach is responsible for determining the starting line-up and who to leave on the bench, it was great to celebrate a terrific week from our starters last week. Going forward, though, we need to hope that our key players remain healthy and that we evaluate each player, their weekly opponent, and factor the weather conditions expected for each game.
This week, our Swamp Gas Methane Marauders will face the team called "Cruzan & Coke". That team beat us 128-82 in Week #3, so we're hopeful that our team will rally to achieve another win this week.
Now, let's introduce our starting line-up for Week #12!