Podcast: Play in new window | Download
Subscribe: RSS
Another one bites the dust! And another one down, another one bites the dust!
After former unbeatens Alabama and Penn State both lost last weekend, there are now just five unbeaten teams remaining in the SwampSwami College Football Top 25 rankings for Week #11 ending Saturday, November 8, 2019.
The two showcase games of last weekend made for a glorious afternoon of college football viewing!
First, the Minnesota Golden Gophers (who were ranked #17 by the so-called experts of the BCS last week but #7 in my survey last week) jumped ahead early and then held-off BCS #4 Penn State (#5 in my rankings last week). The final score of 31-26 looks closer than this game felt while watching it. The Golden Gophers unleashed a pinpoint passing attack, a rugged running game, and a big-play defense on Saturday. Penn State never recovered.
The second battle of unbeatens had 8-0 Alabama hosting 8-0 LSU.  Like Minnesota, LSU led from start to finish and grabbed a 5-point final victory margin.  However, unlike the Minnesota game, the Bayou Bengals raced to a 20-point halftime lead at 33-13 and stunned the previously confident Bama crowd.  Alabama mounted a second half rally, but LSU never lost the lead in winning 46-41 and breaking an 8-game losing streak to the Crimson Tide.
Let's now reveal the latest SwampSwami College Football Top 25 for the week ending November 8: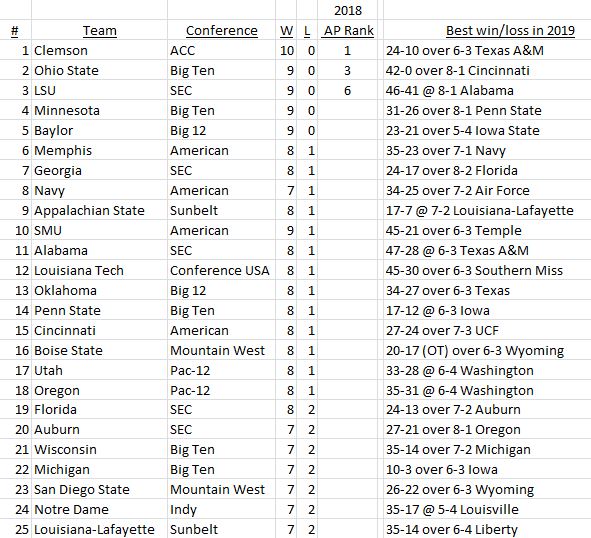 With an incredible number of grudge match-ups this coming weekend, there are bound to be a few surprises in store for our elite group.
On the other end of the scale, the bottom ten teams out of the 130 FBS large division schools is now comprised of 2-win, 1-win, and three teams still seeking their first win of 2019. Leading the way in this futility grouping is the Arkansas Razorbacks.
After being embarrassed at home to a mid-level Western Kentucky team 45-19 on Saturday, the Razorbacks fired head football coach Chad Morris before the end of his second season in Fayetteville. Before coming to Arkansas, Morris had led a turnaround at SMU in taking a 2-10 team to 7-5 over a three year period.
Chad Morris has a degree in Mathematics with a minor in Statistics from Texas A&M. He is also one of the few major school head coaches never to have played college football. After signing a 6-year deal to coach the Hogs in Arkansas, the 50-year old Morris can "count" on being paid about $10 million over the next four years to not coach college football.
Nice work if you can get it!
Let's reveal this week's Bottom Ten teams:

Your SwampSwami is pulling for Rice, New Mexico State, and Akron to find a way to break into the win column at least once before this season ends.
The Rice Owls appear to have the best chance as they will play three consecutive Conference USA opponents with losing records to finish the year. The Owls fly to 3-6 Middle Tennessee this week, then return home versus 4-6 North Texas, and fly west to play 1-8 at UT-El Paso to end their season.
New Mexico State (who is an independent this season) also gets a chance to beat 1-8 UTEP on the week before Thanksgiving. UTEP must feel like a piñata being targeted by these two hungry but winless squads!
Akron? Well, they will finish their disappointing season with three tough conference match-ups (all of whom have won at least four games so far this year). The Zips, who have the 129th worst offense in the nation and scored a total of just nine points in their last four outings, need to get some zip on the offensive end soon, or they could remain as our worst team in 2019!
Enjoy this week's games, and come back again next week to learn the latest SwampSwami.com College Football Top 25 teams!