Podcast: Play in new window | Download
In our season-long quest to keep you informed about how my Yahoo! Sports fantasy football team (Swamp Gas) is performing, the Methane Marauders took it on the chin again last weekend and fell to 5-3 on the season with a 104-86 loss to my long-term nemesis, Dead Crab.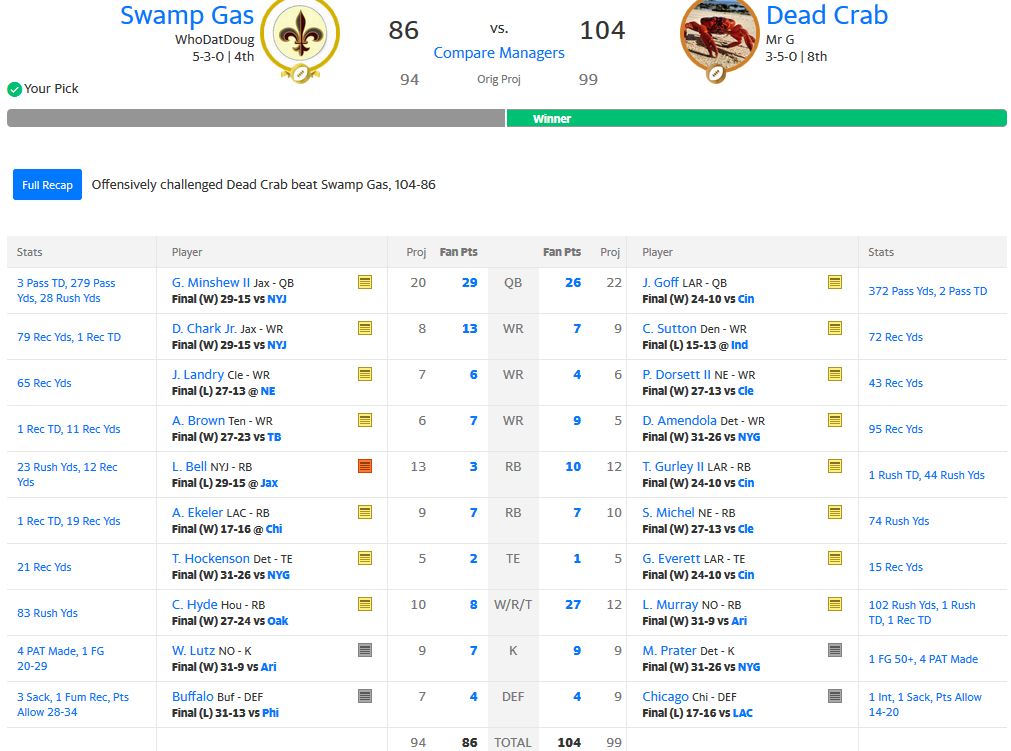 My fantasy football team is now in fourth place out of our ten-team league.
Don't get me wrong.  My team's 5-3 record is still terrific given the number of key injuries that this team has weathered.  
Just this past weekend, we were without the services of two starting receivers and our top tight end. WR Davante Adams (Packers – turf toe) and Adam Thielen (Vikings – hamstring) along with TE Jared Cook (Saints – ankle) were unavailable to us last week.
The good news? New Orleans Saints QB Drew Brees returned after being sidelined since Week #2 and looked sharp with over 300 yards passing and three touchdowns in a Saints victory over Arizona.
The bad news? The Saints are on a "bye" week this coming weekend, so we'll have to wait yet another week to put our Hall-of-Fame quarterback into the starting line-up again.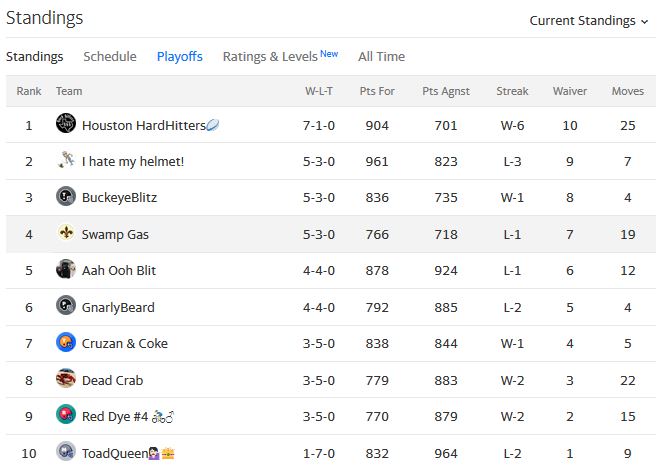 General Manager's comments – Our Swamp Gas fantasy football team has been put together with Band-Aids for several weeks due to the number of key injuries to our initial draft group. We picked-up quarterbacks Josh Allen (Bills) and Gardner Minshew (Jaguars) and kept Drew Brees on the roster awaiting his return. We'll likely drop either Allen or Minshew (in that order) to give us more roster flexibility.
What do we need to add this week?  A placekicker to replace Wil Lutz of New Orleans is needed with the Saints bye week .  That means we will drop a player (likely to be Bills WR Cole Beasley) and hope that we can grab 49ers kicker Robbie Gould from the pool of available kickers. 
We also noticed that our injured (former LSU) running back Darrius Guice (Washington) will be coming off the injured reserve list and able to play in two weeks.  We might drop another running back (LeSean McCoy – Chiefs) in order to pick-up Guice to strengthen our bench down the stretch. 
Coach's corner – Our team just can't generate enough offense right now. You generally need 100 or more points to win on a weekly basis.
How badly are we doing?  We are now in tenth place (yes, last place) in scoring this season! 
Our team's 5-3 record with such a lousy offensive output means that we have been VERY lucky to sport a winning record at this point in the season.
If they keep this up, we may have to give our General Manager, Head Coach, and players a raise!
It's time to snap out of this scoring slump!  This week, we are going to return our starting wide receivers Davante Adams (Packers) and Adam Thielen (Vikings) into the line-up this week assuming their injuries have healed. 
With the Saints' bye week, we'll go with Mr. Mustache, Gardner Minshew (Jaguars), again as our starting quarterback. Minshew has a hot hand right now, and let's give him the ball another week!
By Sunday, we will add a placekicker to the line-up, so our projected scoring should be near the Magic Number of 100 points again!
Now, let's meet this week's opponent. "I Hate My Helmet" has an odd name, doesn't he? That team is also 5-3 so they seem to perform well regardless of any headgear issues!
C'mon, Swamp Gas! Win one for your adoring fantasy football fans!