Podcast: Play in new window | Download
In the opening segment of the 1960's television favorite, Batman sends a series of villains flying as he fights to clean-up Gotham City.
In this week's Fantasy Football update, my Swamp Gas team was on the receiving end of a solid right upper cut with an ugly 106-67 thumping which dropped my team to 4-2 for the 2019 season. That is still good enough for fifth place in our ten team league.
Last week's debacle was U-G-L-Y.  Though I played a few of the wrong players, it didn't matter in the end.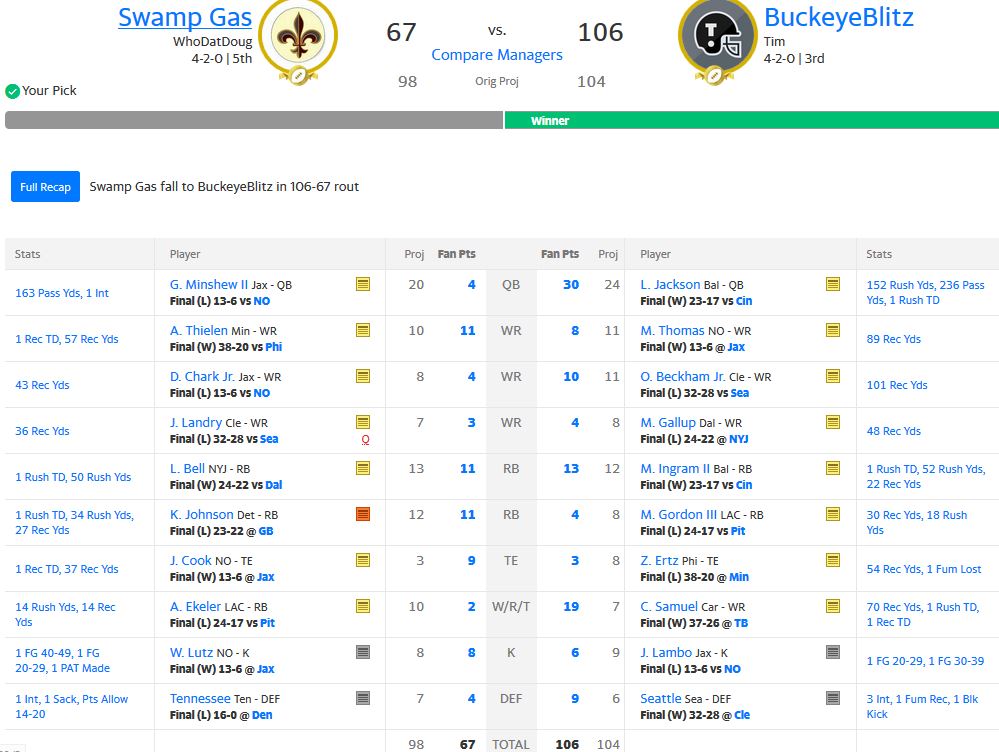 Still, I would rather be soundly thrashed than lose on a last minute score by the other team.   That's what happened on Monday night as Green Bay's kicker became the hero for our league's last winless team.  Congratulations on Win #1 to Toad Queen (now 1-5)!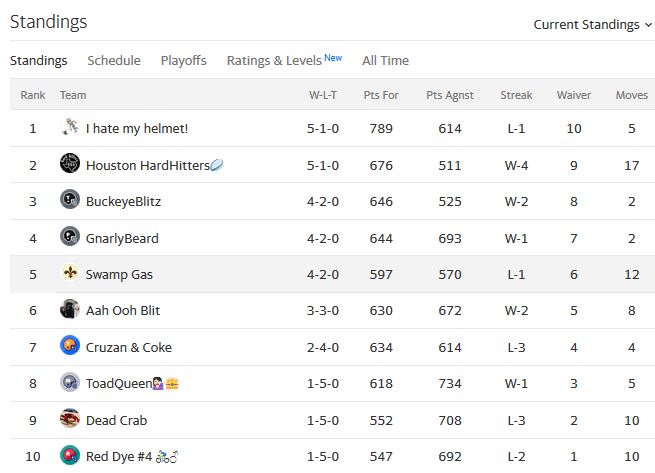 Rather than whine about why my Fantasy Football team flopped this week, I think it's important to stay positive and remember that we're 4-2 WITHOUT quarterbacks Drew Brees of the Saints (injured Week 2 – back in a few more weeks), Ben Roethlisberger of the Steelers (Injured Week 2 – out for season), Green Bay WR Davante Adams (turf toe – week-to-week) – you get the idea.  Injuries are a part of the real game, so this is a part of Fantasy Football, too.
Let's chat with the management team and see how we can turn things around:
General Manager comments – The GM takes care of obtaining talent from the Fantasy Football league's free agent lists.  Of late, Swamp Gas has struggled to find a productive starting quarterback with injuries to both Brees and Roethlisberger.  We picked-up Josh Allen of the Buffalo Bills and Philip Rivers of the Chargers.  Unfortunately, Josh Allen became injured (concussion), so we went with Rivers.  The Chargers' long-time QB is still quite capable, but his offensive line is a mess and does not give him time to throw the ball. 
Last week, we took a chance on Jacksonville's rookie QB sensation, Gardner Minshew. He had thrown for seven TD's in the past three games and was playing at home against New Orleans. Under sunny skies and 80 degree conditions, the Jaguars' offense looked inept against an improving Saints defense. Our quarterback earned only 4 points (vs. a projected 20).
This week, we're going to drop Philip Rivers (he has zero time to throw the ball), and welcome back Josh Allen of the Bills (at home vs. the winless Miami Dolphins). 
We are now shopping for a wide receiver. With Davante Adams still battling turf toe, we're also going to lose WR Jarvis Landry this week (Bye week). We're looking at either Demarcus Robinson (Chiefs) or, perhaps, Cole Beasley (Bills) to sign a short-term deal with Swamp Gas at the midnight deadline tonight.
Coach comments – The role of the team coach is to watch daily to see:
Are any of our players injured? (In our case, the answer is "Always")
What are the match-ups looking like this week? (who is at home/on the road)
How are the weather conditions going to affect each player/team this week?
What are the Yahoo! Sports projected points for each of our players (they are usually just simple statistical averages).
Read other publications to gain perspective on how others see the coming week.
Weighing all five of the above factors, I usually ignore most of the above advice and trust my gut as to who I should play every week!
This week, our Fantasy Football team will face another 4-2 team named "Gnarly Beard". A win will keep our team in the upper echelon, but we'll need to have a few players step-up this week and have big games in order to improve our scoring totals.
Hope for the best, and we'll provide an update next week.
Same Bat-time, Same Bat-station!