Podcast: Play in new window | Download
Subscribe: RSS
The good news? My fantasy football team (Swamp Gas) dropped its first game of the season but is still a respectable 2-1 after three games of the NFL season.
The bad news? For the second straight week, the Methane Marauders failed to score more than 82 points in a contest. In a nutshell, my team is LUCKY to be 2-1 at this point in the season.
My fantasy football team was obliterated this week by an embarrassing score of 128-82 in Week #3 by the team called "Cruzan and Coke" (who also is now 2-1).
Among the purpose of these weekly updates is to help you learn from my mistakes (there are many). Though I would love to instruct my fantasy charges to take a few extra laps in practice this week to account for their pitiful team performance, it's important to remember that Swamp Gas is playing without its two legendary quarterbacks, Drew Brees and Ben Roethlisberger, due to Week 2 injuries.
Let's take a look at our Week #3 performance (Warning – it's not a pretty sight!):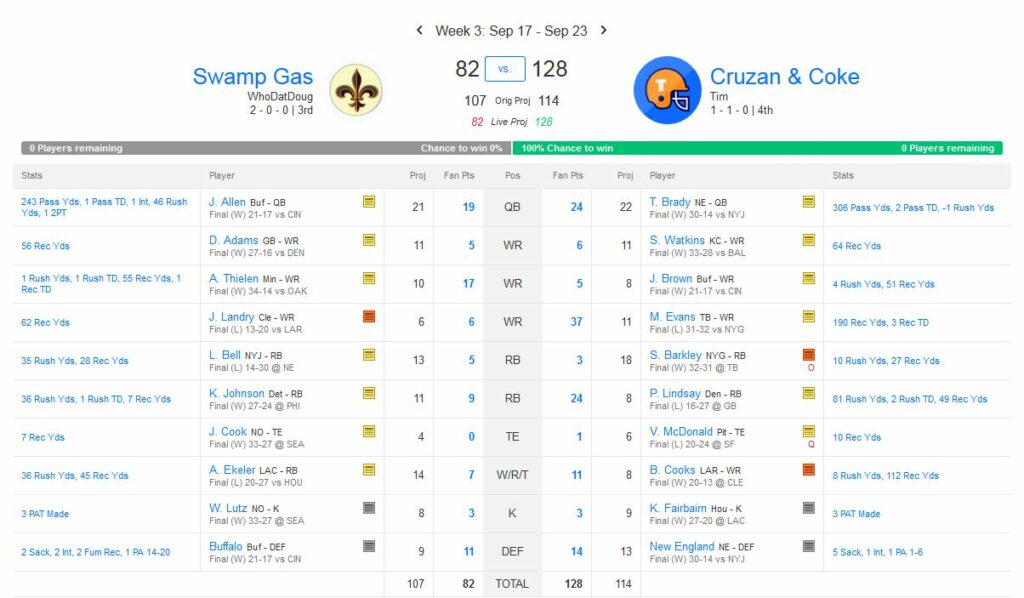 Of the ten positions on my Swamp Gas first team, only two contributors (WR Adam Thielen and our Buffalo Bills defense) scored more than the predicted values. That means that 80% of my roster underperformed! Ouch.
Some of the blame was just lousy match-ups this week. It's unreasonable to expect that our Jets RB Le'Veon Bell would have a significant output at undefeated New England. He garnered only 5 points vs. his 13 point projection. The Jets are also playing with their third string QB, so Bell is being targeted by the opposing defenses, too. I have confidence that Bell will ring the cash register again for us soon!
The biggest question mark is that of my tight ends. Most fantasy football tight ends aren't expected to contribute more than ten points per game. In Week 3, though, both my starter (Jared Cook – Saints) and my back-up tight end (T.J. Hockenson – Lions) scored ZERO points! Cook appears to be disinterested in improving, while our rookie (Hockenson) simply isn't being targeted by Lions' QB Matthew Stafford.
What shall we do?
The Saints paid Jared Cook $15.5 million for two years beginning this season. He is being paid as if he is a top flight tight end. His lack of performance (a dropped ball in the Seattle game, for example) makes me wonder if there are other issues at play.
This week, Cook's Saints will be at home in the Dome against the Dallas Cowboys, while T.J.'s Detroit Lions are playing at home against the red-hot 3-0 Kansas City Chiefs. What to do? Stay tuned for the Coaching decisions!
General Manager Update:
We added two new quarterbacks last week after Drew Brees was injured (6-8 weeks) and Ben Roethlisberger had a season-ending injury to his throwing arm. Buffalo's Josh Allen came through with 19 points last week, but New England rolls into town this week. We also grabbed Cincinnati QB Andy Dalton whose Bengals have the worst running game in the NFL (translated – they throw the ball a lot). Dalton is playing in Pittsburgh on Monday Night Football this week. Hmm.
Also, Swamp Gas dropped Saints WR Tre'Quan Smith and added 49ers WR Deebo Samuel. Samuel stayed on our bench and only had 4 points last week anyway.
No plans for any roster changes this week. Let's see how things go in Week #4.
Coaching Decisions:
There are several issues for the Swamp Gas coach in determining who to play this week. First, we must find a one-week replacement for RB Le'Veon Bell (bye week). I'm going to move Austin Ekeler (Chargers) into Bell's RB slot.
Who should fill Ekeler's normal RB/WR/TE bonus spot? Our options are running back Carlos Hyde (Texans – home against Carolina), wide receiver D.J. Chark (Jaguars – on the road in Denver), and wide receiver James Washington (Steelers – home against Cincinnati). I prefer using players who are in "home" games, so let's give Carlos Hyde a chance to show us something this week!
Tight end? Both Cook and Hockenson are both are home this week. I think it's time to give our rookie a chance this week. Hockenson gets the start!
At quarterback, Buffalo's Josh Allen leads the 3-0 Bills at home against the Super Bowl champions of New England. Buffalo fans will be sky high for this game, but New England gives up the fewest passing yards (199 yards/game) in the league. Yikes! On the other hand, Cincinnati is facing a Steelers team giving up the 30th most passing yards in the league (316 yards/game). Let's give Andy Dalton a chance to ring the bell this week!
Opponent:
In Week #4, we play a new team in the league called "Toad Queen". Fortunately for us, TQ is currently 0-3, so this might be an opportunity to improve our record to 3-1 with another victory!
Let's go, Swamp Gas! See you next week!