Podcast: Play in new window | Download
Subscribe: RSS
Every August, the Associated Press releases its preseason college football rankings.  In most years, this is simply a glorified beauty contest of America's most familiar (and media hyped) college football teams.  The most popular "brands" nearly always show up on this list a week or two before the start of the season.  Once each team has played one or two games against worthy competitors, the "pretenders" will drop like flies from the AP rankings.
This year, though, has been a bit of an outlier.
After the first four games of the college football season, the initial AP Preseason rankings are still holding up remarkably well!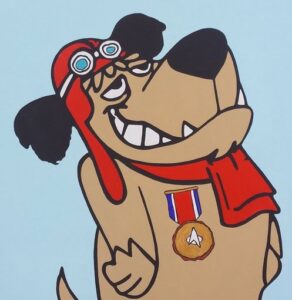 Only seven of the original top 25 teams have fallen out of the elite AP voters' group after the opening month of play.
I will post my first SwampSwamiSports.com College Football Top 25 rankings beginning after next weekend's games.  I prefer to wait until September ends so that we have more data to evaluate each team's best win of the season.
Before we do that next week, let's analyze how well the initial AP preseason Top 25 has fared through the first month of competition.  The preseason prognostication by the AP is on the left side with the ranking for the week ending September 23, 2023 on the right:
#1 – Georgia (4-0) – Still #1 – The two-time defending national champions may have the easiest schedule in major college football this season.   The Dawgs won't play a ranked team until the weekend of October 28 (Florida – currently #22).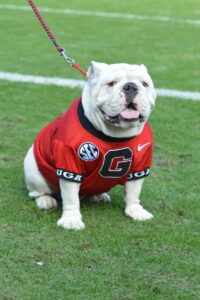 After that, UGa plays Mizzou (#23), Ole Miss (#20), and Tennessee (#21).  By that time, it is quite unlikely that more than two of those four teams will be ranked.  Georgia's easy schedule may come back to bite them later this year if they haven't beaten a tough opponent.
#2 – Michigan (4-0) – Still #2 – Coach John Harbaugh is now back with the team after his four-game suspension through "cupcake season".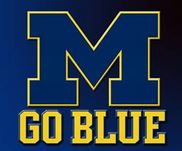 Just like Georgia, the Wolverines play weak competition this year.   The first ranked opponent will be Penn State (currently #6) on November 11 (that's right – November!).  P.U.
#3 – Ohio State (4-0) – Now #4 – Ohio State scored on the final play of the game against a legitimate opponent (Notre Dame) last Saturday night in South Bend.  Afterwards, we learned that the Irish had only ten defenders on the field when Ohio State's running back scored from one yard out.   And WHO has the luck of the Irish?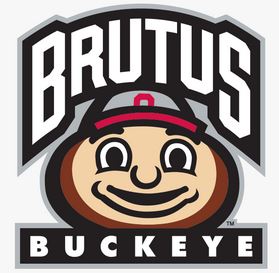 The Buckeyes (like Michigan) won't face another top 25 opponent until hosting Penn State on October 21.
#4 – Alabama (3-1) – Now #12 – After Bama lost at home to Texas in Week #2, Ole Miss came to Tuscaloosa last Saturday looking to add to the "Nick Saban Retirement" rumors.  Unfortunately for Coach Lane Kiffin, the second half was played.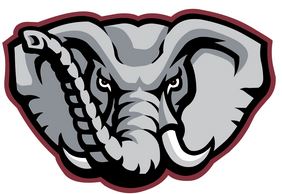 Alabama won 24-10.  Bama still has quarterback issues as Jalen Milroe was fortunate not to be picked-off more than just one time.  Alabama cannot afford to lose another game if they expect to make the College Football playoffs.
#5 – LSU (3-1) – Now #13 – Like Alabama, the Tigers lost an early season game to Florida State.  FSU is still unbeaten and is now the favorite to win the ACC title.  The Tigers' defensive backfield has been picked apart twice (Florida State and, last week, Arkansas).  LSU must outscore its opponents.  Like Alabama, they also cannot afford to lose another game in order to make the playoffs.
#6 – USC (4-0) – Now #8 – The Trojans' offense is as potent as expected.  It's the defense which keeps opponents in the game.  USC faces tough road games at Colorado, Notre Dame, and Oregon in the weeks ahead.  If they tiptoe to a conference title, they deserve a playoff spot.
#7 – Penn State (4-0) – Now #6 – Like Michigan and Ohio State, the majority of Big Ten opponents are sub-par tests for teams like Penn State.  A road trip to Ohio State in late October will be the Nittany Lions' first big test.
#8 – Florida State (4-0) – Now #5 – FSU blew LSU off the field in the second half of their season opener.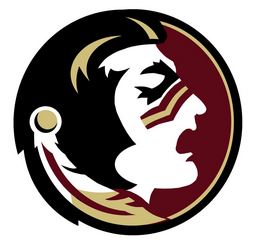 On Saturday, they traveled to perennial ACC powerhouse Clemson and prevailed in overtime.  The Seminoles have few tough tests left on their schedule and, in my opinion, have the second easiest road to the College Football Playoffs other than Georgia.
#9 – Clemson (2-2) – Now gone from AP Top 25 – Conference losses at Duke and to Florida State early this season have ended Clemson's chances of making the playoffs.
#10 – Washington (4-0) – Now #7 – The Michael Penix show has put up points like a pinball game for the Huskies thus far.  How will this team react when facing a tougher opponent like Oregon, Utah and USC soon?
#11 – Texas (4-0) – Now #4 – The Longhorns manhandled Alabama on the road on national television this season.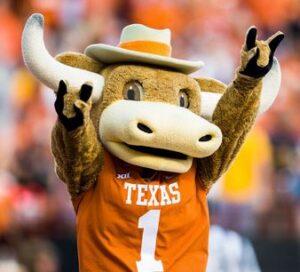 Games against upstart Kansas (4-0) and Oklahoma are coming the next two weeks.  If the Horns are 6-0 by then, they may, indeed, finally be "back".
#12 – Tennessee (3-1) – Now #21 – The Vols were ambushed by a hungry Florida Gators team in Gainesville a few weeks ago.  The schedule is not easy for Tennessee over the next month.  With questions at quarterback, Tennessee needs to improve quickly to remain a contender.
#13 – Notre Dame (3-1) – Now #11 – Yes, Notre Dame has risen two spots despite losing at home to Ohio State on the final play of the game last Saturday night.  The Irish travel to surprising Duke this weekend and then must face USC and Clemson.  They cannot afford to lose another game to be considered for the Final Four.
#14 – Utah (4-0) – Now #10 – The Utes are winning without their Heisman candidate quarterback, Cam Rising.  The hardest part of the Pac-12 schedule remains, though.  They must run the table and finish unbeaten to push one of the "brand names" out of playoff contention.
#15 – Oregon (4-0) – Now #9 – The Ducks humiliated Deion Sanders' Colorado Buffaloes by running-up the score last weekend.  Karma has a way of returning to get you.  I expect the Ducks to slip on a banana peel in Pac-12 play.  We shall see.
#16 – Kansas State (3-1) – Now out of the rankings – K-State lost a road game at 4-0 Missouri on a 61-yard field goal on the last play of the game.  I think the Wildcats deserve a Top 25 spot, but they will have to earn it from skittish AP voters.  K-State visits Texas on November 4 in what should be a dandy!
#17 – TCU (3-1) – Now out of the rankings – TCU's home loss to Colorado on national television boiled the Frogs right out of the title hunt.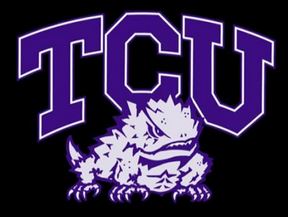 This is a very dangerous team which can ruin the season for Texas or Oklahoma later this fall.
#18 – Oregon State (3-1) – Now #19 – The Beavers lost by just three points at Washington State last weekend.  They will host Utah this Friday night (FS1) and have a chance to move back up a few spots in the rankings.  Oregon State must win all of their remaining games for playoff consideration.
#19 – Wisconsin (3-1) – Now out of the rankings – After losing early in the year at Washington State, the Badgers' soft Big Ten schedule now includes home games with both Iowa and Ohio State.  Wisconsin's playoff chances are miniscule.
#20 – Oklahoma (4-0) – Now #14 – OU (as usual) has played a relatively easy schedule thus far.  The annual State Fair game vs. Texas in Dallas is coming on October 7.  I don't trust Oklahoma to roll through the Big 12 unbeaten.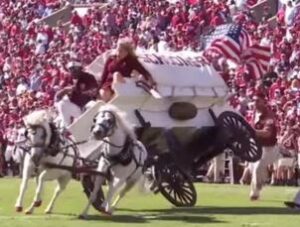 Prove me wrong, Sooners!
#21 – North Carolina (4-0) – Now #15 – UNC escaped (barely) in their match-up against Appalachian State.   This team's schedule is squeezably soft.  Like Oklahoma, the Tar Heels must go unbeaten to warrant serious consideration for the College Football Playoffs.  I don't trust them, either.
#22 – Ole Miss (3-1) – Now #20 – After a solid win at Tulane to open the season, Ole Miss laid an egg at Alabama last weekend in a 24-10 loss.  Redemption is at hand, though.  LSU rolls into The Grove this weekend in what should be a dandy match-up (5PM CDT on ESPN).  The loser of this game has zero playoff chances.
#23 – Texas A&M (3-1) – Now out of the rankings – On paper, the Aggies should have a top ten team with such highly ranked recruiting classes.  Alas, that's why the games are played.   An embarrassing 48-33 loss at Miami means that the Aggies (like others at the bottom of this grouping) must run the SEC table for College Playoff consideration.  They must beat Arkansas, Alabama, Tennessee, Ole Miss, and LSU.  I wouldn't count on it.
#24 – Tulane (3-1) – Now out of the rankings – The Green Wave's home loss to Ole Miss was enough for AP voters to toss them aside.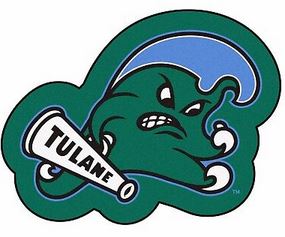 The Greenies can still win the American Athletic Conference and play in a major bowl if they finish the regular season 11-1.
#25 – Iowa (3-1) – Now out of the rankings – The Hawkeyes never should have been #25 to start with.  However, they (like a few other Big Ten teams) have a very easy remaining schedule as there are no currently ranked teams left to play.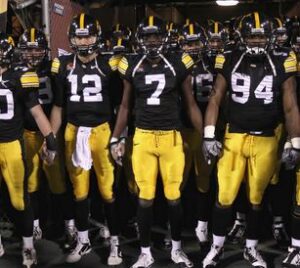 I do love their black and gold uniforms, though!
Below are teams which were not ranked at the start of the season but are now ranked after Saturday, September 23, 2023:
#16 Washington State (4-0)
#17 Duke (4-0)
#18 Miami (FL) (4-0)
#22 Florida (3-1)
#23 Missouri (4-0)
#24 Kansas (4-0)
#25 Fresno State (4-0)
These new entrants into the AP Top 25 have earned their time in the spotlight (at least for now).  Let's see how everyone stacks-up against the first SwampSwamiSports.com College Football Top 25 rankings starting next week!