Podcast: Play in new window | Download
Subscribe: RSS
Dallas Cowboys fans should know the tune.  Sing along to the "Ballad of Jerry Jones"!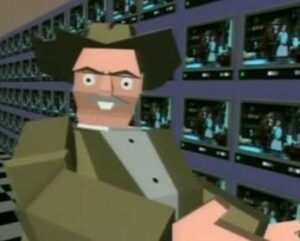 Come and listen to my story 'bout a man named Jer'
Played Razorback football with the Hogs up there.
Then one day, after graduating school
He poked holes in the ground into a gas pool
Methane, that is…Contract guaranteed…Take or pay!
Well the next thing you know, Jer's a multi-millionaire.
His kinfolk said, "Time to move away from there –
Dallas, Texas is the place you ought to be"
So he bought the Dallas Cowboys in the 1980's.
For $140 million – worth nearly $8 billion today!!!
Two years ago, I recorded that silly little ditty about the owner of the Dallas Cowboys.  Several of my friends are long-time faithful fans of the Cowboys.  They pray – regularly – that someone is going to magically appear, buy their favorite football team, and finally remove Jerry Jones as the de facto head coach of the Dallas Cowboys.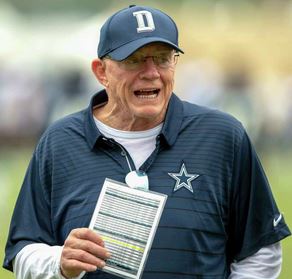 Based on JJ's actions just this past weekend, another new chapter of the egotistical team owner's interference with the football team just occurred.  It has now been 27 years since the Dallas Cowboys and their endlessly meddling owner have participated in a Super Bowl.
Let's take a closer look at the man who might be the most despised man in Dallas, Texas:
Step 1 – Become a millionaire in the natural gas business!
Now 80 years old (like the current US President), Dallas Cowboys owner Jerral Wayne Jones was not born rich. Jerry's parents moved to Little Rock, Arkansas when the lad was just three years old.  His parents ran a local grocery store until Jerry graduated from high school in 1960.
Once Jerry Jones went to college in Fayetteville, Arkansas to play football as a 185-pound offensive lineman for the Razorbacks, his parents moved north to Springfield, Missouri where his father (Pat) built a successful life insurance business.
When Jerry returned from college in 1965 with a bachelor's degree in business administration, he was named Executive Vice President of his father's insurance company.  He would return to Fayetteville to obtain a Master's degree in 1970 and decided to go into a different business.
By 1981, Jerry Jones and his oil and gas partner Mike McCoy (a petroleum engineer) formed an oil and natural gas entity called Arkoma Production Company.  In 1982, Arkoma obtained (for a reported $15 million) thousands of acres of leases from a Little Rock-based natural gas energy conglomerate named Arkla, Inc.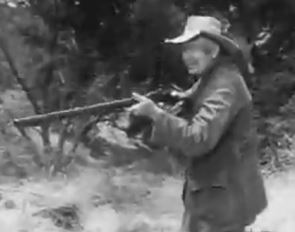 In return for Arkoma's agreement to drill and develop hundreds of lower risk/moderate reward developmental wells into a "you almost can't miss" region of prolific natural gas reserves in western Arkansas and eastern Oklahoma (hence the company name "Arkoma"), the natural gas pipeline utility portion of Arkla agreed to purchase the newly discovered production.
Step 2 – Timing is everything!
In what would turn out to be extremely fortunate for Jones' future professional football interests, the gas purchase contract between Arkoma Production and Arkla called for the majority of Arkoma's daily natural gas production to be purchased by the pipeline company.  This contract was considered to be a "take-or-pay" agreement.  Within a few years, the pipeline's market for Arkoma's pricey natural gas declined, and the pipeline refused to buy the required amount of natural gas.  The agreement's "take-or-pay" clause then kicked-in.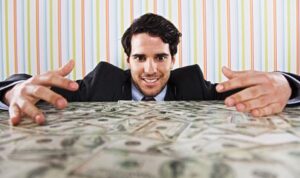 By 1986, Arkla cut a new deal with Arkoma.  For $175 million, Arkoma Production Company was completely bought out.  As a 50% owner, Jerry Jones had quickly become quite wealthy.
Two years later in 1988, Jerry Jones learned that the NFL's Dallas Cowboys were for sale.  The then 47-year old Jerry Jones orchestrated a deal to purchase the Dallas Cowboys football team ($65 million) and their home stadium (Texas Stadium) for another $75 million. The $140 million price tag involved Jones leveraging everything he owned in order to buy the pro football team.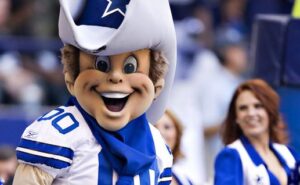 Risk (whether it was father's life insurance business, his years in the energy business, and now pro football) had become all too familiar to Jerry Jones by this point in his life.
Step 3 – Hire someone smarter than yourself to run the business.  Then, get out of the way! 
Jones saw incredible upside in the value of the Dallas Cowboys, but he needed to cut costs to the bone in every facet of the organization to simply survive the first few years.  Among those jettisoned by Jerry Jones was legendary Dallas coach Tom Landry (a two-time Super Bowl winner).  The team's first year in 1989 under new owner Jerry Jones was a bona fide disaster (1-15).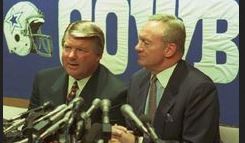 However, the team's newest head coach (Jones' friend and former Arkansas teammate) Jimmy Johnson turned out to be a gem.
To rebuild the slumping franchise, Dallas Cowboys head coach Jimmy Johnson orchestrated a massive trade.  He dealt former Heisman Trophy winning running back, Herschel Walker, to Minnesota for a number of players and draft choices.  Dallas would use those draft picks to acquire future Hall-of-Fame running back Emmitt Smith, All-Pro safety Darren Woodson, cornerback Kevin Smith, and defensive tackle Russell Maryland.
As Dallas started to win football games again, the stadium and those expensive box suites started to sell-out, and things turned around in a hurry for the Jerry Jones version of the Dallas Cowboys.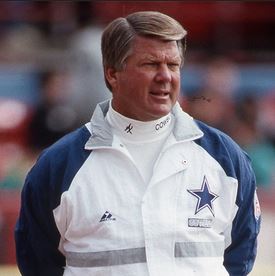 Meanwhile, Coach Jimmy Johnson's Cowboys would claim back-to-back Super Bowl wins in the 1992 and 1993 NFL seasons.  Johnson, though, left the Cowboys in early 1994.  He would cite growing personal differences between himself and the team's egotistical and overconfident owner, Jerry Jones.
JJ would hire former Oklahoma coach Barry Switzer to take Johnson's place.  With the great players already assembled on that team, Dallas won their final Super Bowl in late January, 1996.
Step 4 – At some point, it's time to consider humbling yourself and repeat Step #3
For the next 27 years, the Dallas Cowboys have not returned to play in the Super Bowl again.  Loyal Cowboys fans are drooling for a chance to return to the NFL's championship game for the first time in more than a generation.
After Barry Switzer left the team in 1997, Dallas has hired/fired coaches such as Chan Gailey (2 years), Dave Campo (3 years), Bill Parcells (4 years), Wade Phillips (4 years), and Jason Garrett (10 years).  The current head coach is Mike McCarthy.  After a first year 6-10 record, McCarthy's teams have improved to 12-5 in each of the past two years.  Unfortunately, Dallas did not reach the NFC championship in either of the last two seasons.
Why haven't the Dallas Cowboys regained the team's Super Bowl magic last seen January 28, 1996?
Step 5 – Instead of seeking outside guidance to build the franchise, Jerry Jones has placed family members into the top three managerial positions
Most Cowboys fans cast the team's 27-year Super Bowl drought directly on owner Jerry Jones.  His heavy-handed approach to all facets of the Dallas Cowboys football operations may have resulted in a long list of unintentional blunders, too.
Over the past decade, owner Jerry Jones placed his own family in charge of most everything to do with the Dallas Cowboys except coaching the football team (stay tuned – that could be coming next!)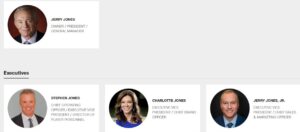 In addition to being the owner, Jerry Jones is titled as the team's President and General Manager.  According to the Dallas Cowboys' website, the other top three executives for the NFL team are:
Stephen Jones – Chief Operating Officer, Executive Vice President, and Director of Player Personnel
Charlotte Jones – Executive Vice President, Chief Brand Officer
Jerry Jones, Jr. – Executive Vice President, Chief Sales & Marketing Officer
Though these family members may be terrific (or lousy) in their respective roles, it's safe to say that any coach or player within the Dallas Cowboys organization might want to be careful saying anything negative about the team's owner.
Step 6 – Continue to step over your own people and run the company as if it is your own personal toy – because it is! 
Last week, the San Francisco 49ers admitted a big personnel mistake in 2021.  It cost them three #1 draft picks to move up in the draft.  With the #3 overall pick, quarterback Trey Lance was selected by the 49ers after just one year as the starter for small college powerhouse North Dakota State.  Several other NFL teams (including Dallas) believed that Lance had tremendous NFL upside.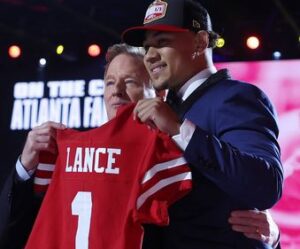 Just two years later, the Niners recently demoted the oft-injured and unproductive Trey Lance to third string.  With the demotion, Lance asked to be traded last week.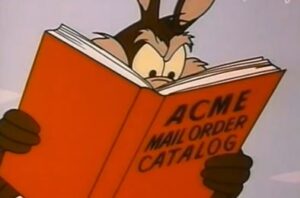 Guess who offered a 4th round draft pick to the 49ers for Trey Lance?  Yep, Jerry Jones and his Dallas Cowboys.
The risk-taking team owner admitted that he did not consult with his current head football coach (Mike McCarthy) or the team's current starting quarterback (Dak Prescott) prior to utilizing next year's fourth round draft pick on Trey Lance.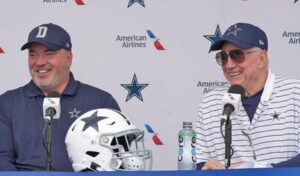 Jones said, "There was nobody that knew [about] it. We told Mike [McCarthy], after we had done it, but my point is we just wanted to get it done. Again, we didn't waste any time. My point is, we didn't, we didn't want them, we didn't want them to hang up."  
In a bit of poetic justice, the Cowboys' previous third string quarterback, Will Grier, played the entire final preseason game on Saturday night.  He completed an amazing 29 of 35 passes (83%) for 305 yards in Dallas' 31-16 win over the Raiders.  Will Grier passed for two touchdowns and scored twice on the ground, too.  The victory was the only preseason win for Dallas this year.
The soon-to-be departing quarterback Will Grier (now in his fourth season) was set to earn $965,000 in 2023.
His replacement, Trey Lance, is contractually obligated to earn $8.5 million to take Grier's place on the bench this season.
Only a true genius like Jerry Jones would agree to spend $8 million more for a third string quarterback.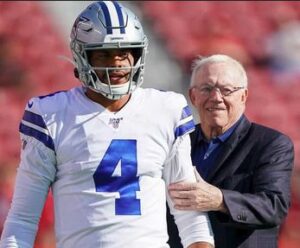 UNLESS…Jerry Jones is sending a message to his starting quarterback, Dak Prescott!
Step 7 – Some day realize that your own ego may have been the biggest problem with the Dallas Cowboys
Earlier this year, I read a terrific book written by former Dallas Cowboys head coach, Jimmy Johnson.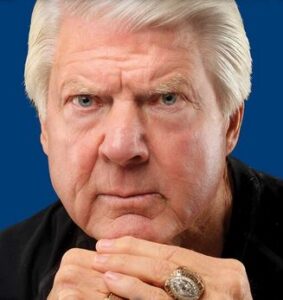 Called "Swagger", Johnson took a full chapter to provide some incredible detail into the reasons why he left the Dallas Cowboys after winning two Super Bowls in the early 1990's.
The bottom line was that owner Jerry Jones (a former teammate of Jimmy Johnson's at the University of Arkansas) confirmed that he wanted more of the media spotlight for himself.  Jones also refused to allow Jimmy Johnson to handle all player decisions as he was initially promised when hired by Jones.
As a result, coach Jimmy Johnson left the Dallas Cowboys.  Johnson would later take the Miami Dolphins to the playoffs three times in his four seasons in south Florida.  He then flourished in broadcasting as a long-time NFL analyst with Fox Sports.
Meanwhile in Dallas, Johnson's former Arkansas teammate Jerry Jones simply can't leave his football team alone.
Last weekend's newest Jerry Jones ego trip by shipping away next season's 4th round draft pick for quarterback Trey Lance (without consulting with key personnel) may turn out to be a genius idea or cause undue tension within the Cowboys' locker room this season.
Dallas' starting quarterback Dak Prescott has not played at a championship level in recent years.  Prescott's confidence may have been shaken knowing that team owner Jerry Jones just invested a lot of money for back-up quarterback Trey Lance – just in case.
Before the deal was made to acquire Trey Lance, the Dallas Cowboys' schedule looked favorable for another successful season in 2023.  Many considered Dallas to be a worthy challenger to Philadelphia and San Francisco for the NFC title this season.
If Dak Prescott falters or becomes injured and Trey Lance comes onto the field to rescue the Dallas Cowboys this year, Jerry Jones deserves all of the credit for his bold maneuver.   If this move backfires, Jones should receive all of the blame for it, too.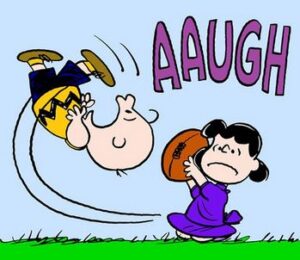 After 27 years of season-ending disappointments, formerly optimistic Dallas Cowboys fans rarely speak the words "Super Bowl" anymore.  Despite years of good intentions, the team's billionaire owner "Tinkering" Jerry Jones has yet to realize he has probably been the biggest obstacle to long-term success in Big D.