Podcast: Play in new window | Download
Subscribe: RSS
***UPDATE 3/2/23 – Antoine Davis finished his college basketball career just three points shy of Pistol Pete Maravich's scoring record after Detroit Mercy lost to Youngstown State in the second round of the Horizon League Tournament.  The record remains safe…for now!
After standing for 53 years, the NCAA men's basketball all-time career scoring record may be broken in the next week or two.
The gentleman who has owned the long-time record played just three seasons of college basketball.  That's because the NCAA wouldn't allow freshmen to play on varsity squads in 1967.  He averaged more than 44 points per game during his three years of varsity basketball.
Meanwhile, Antoine Davis of the University of Detroit Mercy Titans of the Horizon League has a chance to break the all-time scoring record soon.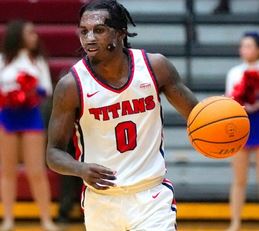 He is 125 points short of the record with at least three games left to play.  If Detroit (which is currently 13-16 this season) should win its first Horizon League tournament game, Antoine Davis will get a fourth game to attempt to break the record.
He has benefited from playing in five college basketball seasons due to the NCAA's allowing a fifth-year "do-over" ruling following the COVID-shortened 2019-2020 season.
The 6'1" Davis is averaging a nifty 28 points per game in his fifth year.  His career scoring average will finish at about 26 points per game.  That's quite impressive, indeed.
However, long-time basketball fans think it's a wee bit unfair to compare his stats to the former record holder.
The current scoring champ remains former LSU guard "Pistol" Pete Maravich.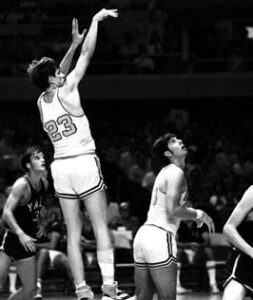 Maravich (known for his floppy socks and incredible flair while handling the basketball) scored 3,667 points in just three seasons while playing for the Tigers from the fall of 1967 through March, 1970.  His scoring average was an incredible 44.2 points per game.

During Pete's time at LSU, the NCAA did not allow freshmen to play on the varsity basketball squad.  They wanted incoming freshmen to have a full year to get accustomed to the rigors of college life.
Things have really changed since 1967!
Not only can current college basketball players play as freshmen, they are now able to collect significant money from their own NIL (Name, Image, and Likeness) rights.  After just one year in college, some of today's college basketball players head directly into the NBA.
During Pistol Pete's playing days at LSU, college basketball did not have a three-point shot or a shot clock, either.  Given Maravich's prolific shooting range, there is no doubt that he would have averaged more than 50 points per game if a three-point line had been used at the time.
Though he passed away suddenly at the age of 40 in January, 1988 due to an undetected heart condition, Pete Maravich will always be forever remembered as a true basketball legend.
I was fortunate enough to get to see Pistol Pete Maravich play once during the late 1960's in Shreveport's Hirsch Coliseum.  LSU was playing a pre-season exhibition basketball game.  A sell-out crowd of more than 8,000 fans was on-hand.  At that time, any arena where Maravich played was sold out.
My friends and I arrived at least an hour prior to tip-off in order to watch Maravich warm-up.  His incredible dribbling, passing, and shooting skills wowed the early bird crowd before the game had even started.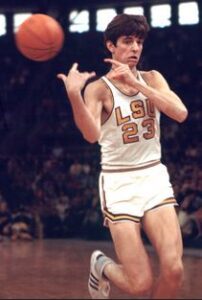 My most vivid memory during the warm-ups was seeing Pistol Pete dribbling a basketball while slowly walking away from the basket toward the free throw line.  Without turning his back to look, Maravich lofted-up (and over his head) a 15-foot shot which swished right through the basket.
My friends and I roared our approval as Pete had drained the shot without ever looking at the hoop!
You better believe that my friends and I tried to master that trick shot for the next few weeks on the local playground court.  My junior high school basketball coach made it very clear that anyone attempting that shot during a game would be benched for the remainder of the season.
One interesting link between Pete Maravich and the University of Detroit's Antoine Davis is that both of their fathers coached their sons in college.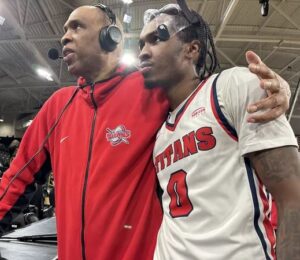 Davis' dad is Mike Davis.  Formerly at Houston's Texas Southern University, Davis has now coached his son at Detroit Mercy for all of his five years.
Petar "Press" Maravich was the head basketball coach at North Carolina State University.  He received a higher paying job offer from LSU.  As part of the job offer, he was expected (unofficially, of course) to bring his highly sought-after basketball playing son along with him to Baton Rouge.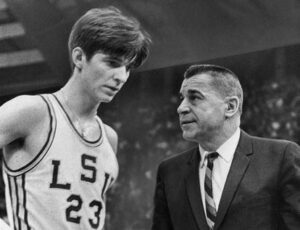 Not so fast, Dad!
Young Pete Maravich wanted to play his college ball at West Virginia and emulate such Mountaineer legends such as Jerry West and Hot Rod Hundley.  However, Pete finally agreed to come play college basketball for his father's new employer as long as dear ol' Dad would purchase a car for his son upon graduating high school.   Deal!
In Baton Rouge, LSU basketball had been an afterthought.  The school's football team was (and still is) the biggest talk on campus.  The school's ancient basketball arena doubled as a livestock and rodeo facility.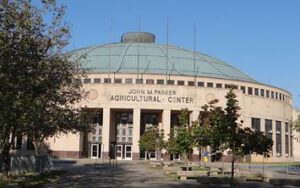 LSU's John Parker Ag Center was constructed in 1937 utilizing unemployed workers during the Great Depression.
In the fall of 1967, Pete Maravich arrived on campus at LSU.  During Pete's first year as part of the Tigers' freshman team, long lines of students and fans stood outside of the ancient Ag Center hoping to get a seat to watch Pistol Pete play basketball.  The LSU varsity games usually played in front of less than half as many fans.
The excitement associated with watching "The Pete Maravich Show" guaranteed a sell-out crowd at every LSU home basketball game and most road games.  The school utilized the incremental revenue to build a new basketball arena soon after Maravich left.
Today, the Pete Maravich Assembly Center at LSU is fondly referred to as, "The House that Pete Built".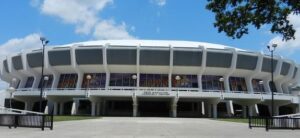 Pistol Pete Maravich would play ten years in the NBA with the Atlanta Hawks, New Orleans Jazz, and the Boston Celtics before retiring from the league in 1980 at age 32 due to lingering knee problems.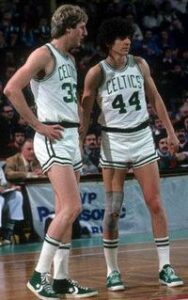 He was inducted into the Naismith Basketball Hall-of-Fame in 1987.
A less publicized reason for Pete's NBA departure was due to increasing problems dealing with alcohol and other drugs which worsened during his professional years.
A few years after his NBA retirement while living in the New Orleans area, the always intense Maravich discovered religion.  He quickly turned his life around by his middle 30's.
The born-again Christian hit the road and spoke to countless groups.  He even accompanied Rev. Billy Graham on several crusades.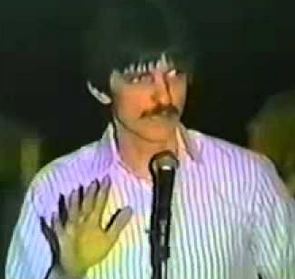 Pete Maravich said that he had never been happy while pursuing the lofty basketball goals he had set for himself beginning at age 7.  At last he was finally at peace with himself and wanted to share his story of redemption with others.
By 1986 and into early 1987, Pete Maravich spent a lot of time caring for his father, Press, after cancer had spread throughout his body.  Press Maravich died in April, 1987 at age 71.
Just nine months later on January 5, 1988, Pete Maravich was appearing in California to speak to another Christian group.  While playing in a friendly non-competitive pick-up basketball game at the church gymnasium, the 40-year old Maravich collapsed on the floor.
An autopsy revealed that Pete Maravich died with a rare heart defect.  He did not have a left coronary artery, and his right coronary artery was grossly enlarged.  Doctors said that it was a miracle that Pete Maravich had been able to play basketball at such a high level for so long with his heart condition.
Pete Maravich was survived by his wife, Jackie, and two young sons (Jaeson and Josh).
Now, in February 2023, Detroit Mercy Titans guard Antoine Davis is quietly chasing Pistol Pete's 53-year old college scoring record.  Unlike the exciting "Pete Maravich Show" at LSU during the late 1960's, almost no one in Detroit seems to have noticed Antoine Davis' quest to break the all-time NCAA men's basketball scoring record.
Last Sunday's home game for his Detroit Titans team attracted less than 2,000 fans into the school's 8,000 seat arena.  Antoine Davis has another home game tonight (Thursday 2/23) against Northern Kentucky and a home finale Saturday afternoon against Wright State.
The Titans will then play in the Horizon League tournament next week.
With a minimum of three games left, Antoine Davis must average 41.67 points per game in order to break the all-time scoring record of Pete Maravich.  If Detroit should win its first Horizon League tournament game, then he would need to average 31.25 points per game over four games to capture the record.
If the Pete Maravich of 1988 was still with us today, he would likely have been the first person in line to congratulate Antoine Davis on breaking his career scoring record.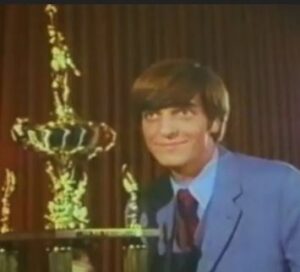 As for the rest of us Pistol Pete fans, we hope that Antoine Davis will fall a few points short of the record held by our beloved Louisiana sports icon.