Podcast: Play in new window | Download
Subscribe: RSS
The Florida Gators football faithful were salivating recently that their team was about to reel in a top rated high school quarterback to join the program next year.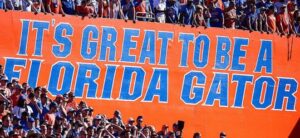 This potential fish on the hook was a young man who boldly proclaimed that Florida's NIL (Name, Image, and Likeness) collective was paying him $13 million over four years in sponsorships if he signed with the Gators.
In July, 2022, this same high school quarterback had already verbally "committed" to play for the University of Miami (FL) after the Hurricanes' NIL group offered a $9 million package of endorsement deals.  Upon hearing the University of Florida's $13 million offer, he backed away from his previous commitment to play for The U (Miami).
As the national high school football signing day approached, the $13 million deal from the Florida NIL collective never fully materialized.  As you may have guessed, this particular high school football player was not at all happy.  He asked for and recently received a release from his commitment to play for the Florida Gators.
Last week, the high school quarterback signed yet another letter of intent to play college football for Arizona State University.   The terms of the value of his newest NIL deal have not surfaced yet.  A source suggested that the player's family did not want to engage in negotiations with Arizona State University's NIL collective prior to the high school quarterback's signing with the Sun Devils.
Arizona State's football fans believe that he is now a "Sun Devil 4 Life".

Yeah, right.  Perhaps we should review that after he finishes Year #1 in Tempe, Arizona.
I am not naming the player (he's easy to find).  His name is not necessary for this story.
The process is unfolding all around the country today as highly sought-after high school athletes in all sports are now able to demand and receive money (legally) to play college athletics for a particular school.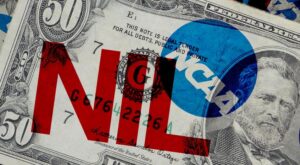 With the recent advent of Name, Image, and Likeness rights for college athletes to earn money off their fame, the good old days of stuffing $100 bills into the pockets of potential recruits (which remains a "no-no") may be waning.
There are now two ways for college athletes to legally "get paid" while attending school (outside of holding a part-time job).
First, your favorite college or university has (or soon will) establish an NIL "collective" to gather donations from supporters and redistribute the money to the school's athletes.  Think of the NIL collective as being like a big charity which asks for donations from the general public and then redistributes those donations to the student-athletes.
The nefarious part of these collectives is determining how much money should be allocated to any particular athlete each year.  In general, the NIL collectives help many of the lesser known athletes share in the pot of gold raised from friends of the school's athletics programs.
The other opportunity for today's college athlete is to individually capitalize on NIL money.
For example, the University of Georgia's star tight end Brock Bowers signed a lucrative sponsorship deal with Zaxby's Chicken (whose home office just happens to be in Athens, Georgia).   A source reported that his deal was worth $1.1 million.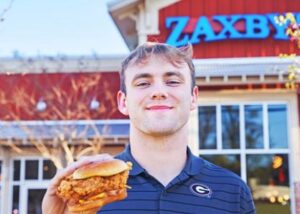 Meanwhile, an NIL collective for all athletes attending the University of Georgia is known as the Classic City Collective.  Its website indicates that athletes participating in all sports at the university are eligible to receive some amount of compensation.  In return, UGA athletes earn their money through social media endorsements, in-kind promotional deals and appearances, meet and greets, autographs, and digital content.
At LSU, the Bayou Traditions Collective has just emerged during the past week.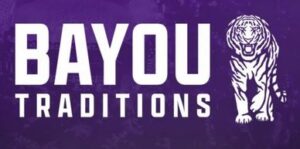 According to their website, "Bayou Traditions raises funds to provide Name, Image & Likeness (NIL) opportunities to selected LSU student-athletes. We make NIL deals more accessible, allowing student-athletes to gain finance and business experience without compromising their focus on studies and sports.
The front page of the website for LSU's new NIL collective gets right to the point.  You may choose to donate anywhere from $100 per year up to $50,000 annually.  If you sign-up for that maximum level, you will receive a few special gifts PLUS your very own personalized video from an LSU athlete!
LSU's long-time Tiger Athletic Foundation is still going to be around, too.  It will be interesting to see how the NIL collective and TAF will co-exist in Baton Rouge, since both entities exist to raise money for the athletics programs at LSU.
One particularly industrious LSU Tiger football player who is capitalizing on his recent fame last fall is linebacker Harold Perkins.  Ranked #32 this week in overall valuation of his NIL deals, Perkins is worth nearly $800,000 right now.
If you check out the merchandise available at Harold Perkins' website, you can buy Perk Nation sweatshirts, t-shirts, headgear, and more!   The products do not contain LSU's trademarked images, but Harold Perkins has his own logo (think of Tiger Woods).  It features some very creative personal marketing.
For college coaches in many sports, this new era of NIL deals (and the – don't get me started – Transfer Portal) is causing a lot of heartburn.  Most college coaches are generally well compensated and are judged annually on wins and losses in their respective sports.  They are paid to recruit top level athletes and win.
We are now witnessing a revolving door of players who are annually seeking to transfer as they would like more playing time or a chance to grab a bigger payday in college athletics.
The biggest collapse of a program that I've seen thus far has also come at LSU.
The LSU men's basketball team lost 100% of its scholarship players following last season and the departure of their former coach, Will Wade.  Prior to the NCAA's fairly recent approval of these NIL deals for players, Wade was accused of orchestrating significant cash payments into the hands of several high level basketball recruits.  After a lengthy investigation, LSU fired Will Wade about a year ago.
The new basketball coach Matt McMahon arrived on the LSU campus last spring to a big surprise.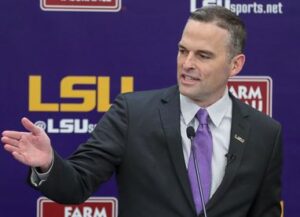 Even after a personal plea to the players to stick around, not a one of the scholarship players recruited by ex-coach Will Wade stayed in Baton Rouge for this season.
Fortunately, today's new Transfer Portal and NIL wheeling and dealing allowed Matt McMahon to restock his roster with a hastily recruited batch of new players.  Many of those new arrivals came via transfers from Coach McMahon's previous school at Murray State in Kentucky.
Unfortunately, the LSU men's team has now lost nine games in a row to start 2023.
Meanwhile, Kim Mulkey's Lady Tigers are roaring at 21-0 and ranked #2 in the country.  If you thought that the LSU women's basketball program isn't getting their fair share of this new NIL loot, think again!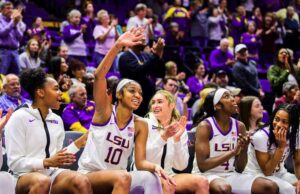 According to one source, freshman hoopster Flau'Jae Johnson already has NIL deals worth approximately $600,000.  LSU's talented transfer Angel Reese has endorsements worth about $200,000.
The vast majority of college athletes do not receive NIL deals anywhere close to the ones which have been mentioned.  As of last summer, a source indicated that the average college athlete (all sports – male and female) earned a few thousand dollars per year via NIL (mostly from social media hits).  It's still enough money to afford a few burgers and pizzas during the off-season.
With these NIL collectives appearing enticing more and more fans to give generously to help support their favorite school's college athletes, we are at the beginning of an evolutionary period in college sports.  Abuses (intentional or not) in these NIL programs will drive more changes in the future.
There is a large pile of money being pumped into college athletics that school administrators, coaches, and, more recently, the players are trying to divvy-up.
Florida head football coach Billy Napier (formerly at UL-Lafayette) recently said, "I think every college football coach in America would tell you they're frustrated.  We're living in a fluid dynamic. There's a lot of good things about NIL, but I think the combination of NIL and the portal creates a dynamic.  I think as time goes, the market will settle down."
Not so long ago, I remember the days when college athletes showed-up for practice in new cars and then shrugged off questions about where they got the money for it.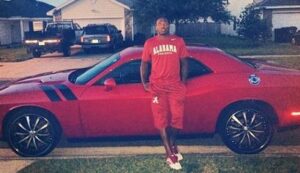 Some of today's college athletes would be wise to consider taking a few classes in business, marketing, tax accounting, finance, and law in order to help understand and manage their own business empire.