Podcast: Play in new window | Download
In our last visit, we discussed the increasing number of woes which have befallen golf and, in particular, the PGA Tour.
In the past 15 years, television ratings for men's professional golf and even the four annual major tournaments (The Masters, PGA, US Open, and British Open) have dropped precipitously.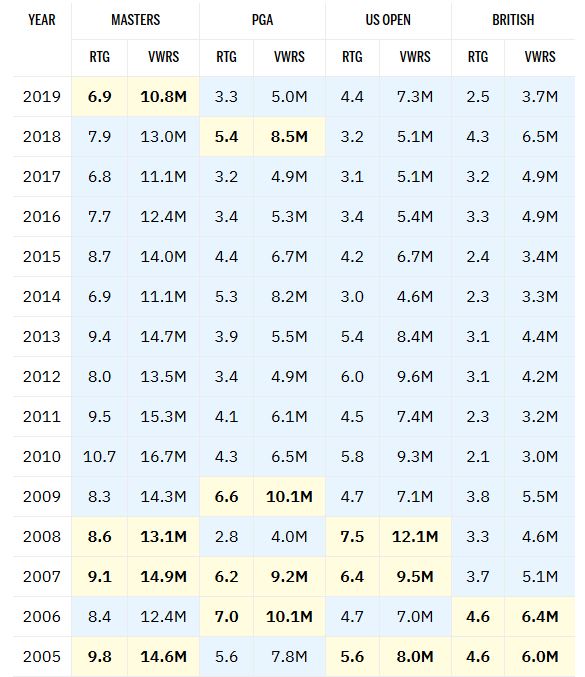 The Masters Tournament in April is the ratings king for golf. It is highly promoted by CBS and marks America's annual look at springtime in Augusta, Georgia with one of the world's most beautiful golf courses and an annual field of select golfers plus past champions.
But even the Masters has seen televised ratings drop by 25% since Tiger Woods won the tournament in 2005. Yes, the ratings drop includes last season's dramatic victory by that same Tiger Woods!
America's love affair with televised golf is waning, and golf has itself to blame.
In an effort to sell more and more golf equipment the past 40 years, golf manufacturers have worked hard to outdo each other to produce the longest, straightest, and most "perfect" drivers, irons, putters, and golf balls.
Despite a hundred years of relatively few significant golf equipment changes, the 1980's saw the introduction of a stainless steel "wood" made with aluminum shaft (instead of steel).  Oversized clubheads soon followed as stainless steel heads gave way to titanium. 
By the early 2000's, a persimmon head #1 wood (or driver) in golf had given way to an oversized metal creature which looked more like a loaf of bread on a stick.
Golf balls were also part of this sales-oriented revolution, too.   Today's golf balls fly much longer and straighter than the golf ball which Jack Nicklaus played for most of his career.
Nicklaus has long called for the PGA Tour to reign-in the excessive distances generated by today's golf clubs and golf balls in order to keep golf courses at relatively similar length and tests of skill.
Between the increased distance provided by today's high-tech golf clubs and balls, professional golfers have caused many of the world's most famous golf courses to become drive, pitch, and putt courses.
I remember watching golfers play the tough 440-yard 18th hole at the Colonial Country Club in Fort Worth, Texas with a driver and long iron (a 4 iron or more) into a tricky green guarded by water on the left side.  It made for a dramatic finishing hole.
Today's golfers, who are generally the same physical size of 40 years ago, will play Colonial's 18th hole with a driver (or 3-wood) and have only a 9-iron or pitching wedge into the green.
It takes a lot more skill to hit that 18th green with a long iron from 200 yards away than a 140 yard shot with a 9-iron today. That's especially true when the wind is blowing in north Texas.
Unfortunately, modern golfers are now playing these same courses more than an hour slower than golfers of 30-40 years ago, too.
Why is that?
It is primarily, because they are not being penalized for slow play by the PGA Tour. As mentioned in our last posting, the PGA Tour has penalized only a handful of golfers for slow play in the past 25 years.
Golfers (who are, by nature, a bit quirky) have an entourage of coaches for their swing, mental focus, and physical fitness. They are encouraged to develop a "routine" in preparation for each shot.
It is maddening to watch a professional golfer mark his or her golf ball when it comes to rest less than two feet from the hole. Instead of putting-out, it might take another full minute to mark the ball, clean it, replace it, line-up the putt, and make the simple tap-in.
Good grief, Charley Brown!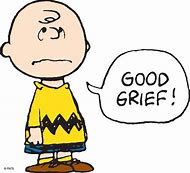 Former US Open champion Graeme McDowell recently said, ""You know, slow golf doesn't help the viewer and it doesn't help the club golfer on the weekend, and we've just got to play fast."
You would like to think that television would encourage golfers to speed-up play. However, the slower play on the course also allows the networks more commercial time to charge a higher cost per spot than they might otherwise receive for the program which follows golf.
Television ratings have dwindled as fans at home are tired of watching these turtles taking an hour longer to play 18 holes Average Joe and Jane are permitted on their local municipal golf course.
I'm all in favor of a 30-second shot clock from the time a player arrives at his ball on every shot, and a requirement that each golfer continue to putt on the green until his or her ball is in the hole.
The men's PGA Tour seems to be at odds with both fans and the players on some of these issues. Doing nothing doesn't help matters.
Losing some tournament sponsorships (like recently in Houston after Shell Oil bailed on the local tournament) and losing television viewers hasn't seemed to change anything with the PGA Tour.
Until now.
Recently, a new "elite" men's golf league called the Premier Golf League (PGL) has been proposed to start as early as 2022.  The idea for that league is to obtain the services of the top 48 golfers in the world for a series of golf tournaments from January through September.
The PGL would play 10 of its 18 tournaments in the United States. The 48 players would be divided into 12 teams and play in no-cut, 54-hole events with a minimum player purse of $10 million with $2 million going to the winner of the tournament.
Golf MVP's such as Tiger Woods and Phil Mickelson are willing to listen to the new league's pitch for their services. 
The one thing we know about most of today's professional golfers is that money talks.
As expected, the PGA Tour isn't pleased about this development.  The upstart new golf league would cause big problems for the PGA's season-ending FedEx Cup series of tournaments which is used to determine the year's top golfer.
To be honest, the FedEx Cup has been a giant yawn for me as a golf fan.  The PGA was wise to move-up the starting dates and reduce the number of events (from four to three) to avoid competing with the first weekend of the NFL's regular season.
My question to the proposed new PGL is this – "How do you determine the top 48 players if you deplete or destroy the PGA or European golf tours in the process"? 
If the new PGL will put a 30 second shot-clock on their 48 golfers, I think they might win a lot more converts from the television public, too.
The next move is yours, PGA Tour.  It's time to get serious about making substantive changes quickly, or be ready to fold your tent.