Podcast: Play in new window | Download
Subscribe: RSS
Another week of games has been played.  Yet another new team now sits atop the SwampSwamiSports.com College Football Top 25 rankings.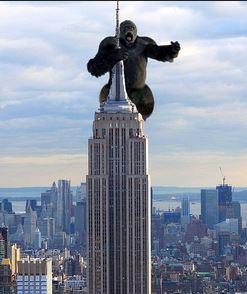 That's the way it goes with this dynamic poll which is based on your college football team's best win of the season!
Since my poll isn't published until after a full month of play, the month of October began with Texas (then 5-0) as the initial top team.  As October progressed, the top spot was then grabbed by unbeaten and two-time defending national champion, Georgia.  The Dawgs held onto the #1 spot for two consecutive weeks (for games ending on October 7 and 14).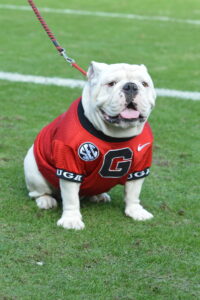 While Georgia was on its bye week, Michigan became #1 last weekend as a result of being the only 8-0 team in the country through the week ending October 21.
This week, a fourth team will wear the SwampSwamiSports.com College Football #1 crown as we end the month of October.
The Ohio State Buckeyes moved to 8-0 on Saturday and ascended into the top spot of my rankings.  Ohio State's best win of the 2023 season came over 7-1 Penn State.
This week's second place team isn't Georgia, either.  The surprising 8-0 Washington Huskies have moved into the second spot after posting an impressive victory over 7-1 Oregon a few weeks ago.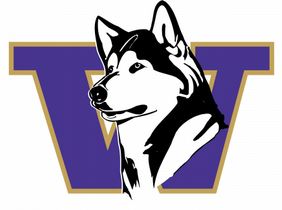 Georgia (through no fault of its own) has dropped all the way to #7 this week.  Here's why.
The Dawgs' two best wins of the season have come against teams whose records have fallen to 5-3 (Kentucky and Florida).  That's the price your team must pay if your opponents have lousy records.   If Georgia keeps winning, the rest will take care of itself by the season's end.
Rock, SHOCK, Jayhawks!  Kansas ends OU's unbeaten season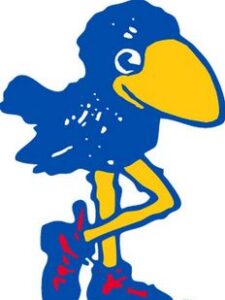 How about those football Jayhawks!  
Neither wind, cold, rain, nor a lightning delay could prevent a determined 6-2 Kansas Jayhawks team from taking down one the nine remaining unbeaten teams coming into last weekend.  Though Oklahoma tried to rally with seconds to go, KU held on to beat the Sooners 38-33 and end OU's dreams of a perfect season.
This nationally televised football game was delayed by an hour due to a rare lightning display during a chilly 37-degree afternoon in Lawrence, Kansas.
With the win, Kansas finally beat Oklahoma (now 7-1) on the football field for the first time since 1997.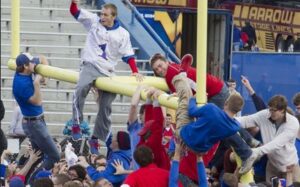 Jayhawks fans stormed the field after the game, tore down and carried the goal post into a nearby lake, and happily bid adieu to the Sooners as OU will enter the SEC next season.
Speaking of the SEC – This Saturday features a gigantic doubleheader on CBS!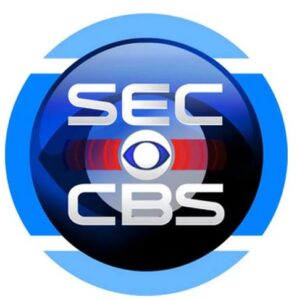 In case you haven't heard, CBS is in the final year of carrying their long-running 2:30PM Southeastern Conference featured football games.  In addition to carrying the SEC's top game in the afternoon, the network is permitted to select one game to air in prime time on a Saturday evening each season.
This weekend (November 4), CBS will provide one whale of a line-up for college football fans to watch at home.
At 2:30PM Central, CBS will feature the 7-1 Missouri Tigers visiting the 8-0 Georgia Bulldogs with the SEC East title potentially on the line.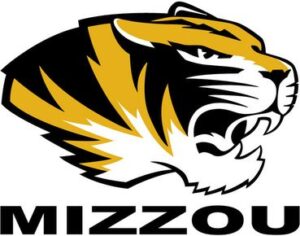 Mizzou's only loss of the year came in a 49-39 shootout loss to LSU on October 7.   Quarterback Brady Cook and wide receiver Luther Burden III have proven to be a true dynamic duo on offense.  Missouri's young head football coach Eli Drinkwitz relishes the underdog role.  With the game being played in Athens, Georgia this Saturday, we'll find out if the Tigers of Missouri have the right stuff to end Georgia's incredible 25-game winning streak.
Early this season, Georgia looked vulnerable.  However, they have come alive on offense during the past few weeks.  The Bulldogs routed the Florida Gators (now 5-3) 43-20 on Saturday in Jacksonville.  Georgia is gunning for an unprecedented third straight national championship.  A win over Mizzou will nearly clinch a spot in the SEC Championship game for the Dawgs.
In the CBS nationally broadcast nightcap at 6:45PM Central, the annual battle between the 6-2 LSU Tigers and Alabama (7-1) will take place in Tuscaloosa.  This game has produced some very memorable SEC contests.
Twelve years ago, LSU and Bama provided an exhausting "Rock 'em, Sock 'em" defensive struggle for the ages.  That game in 2011 was won by LSU 9-6 – in overtime!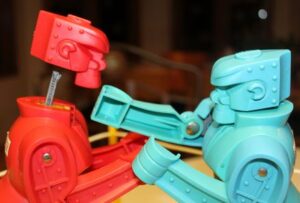 This year's 2023 version of the LSU Tigers are ranked #1 in the country in total offense and are scoring an incredible 47 points per game.  Unfortunately, LSU's defense is allowing nearly 27 points per game, too.
Alabama has shown flashes of brilliance on offense this season but can look quite pedestrian at times.  The Crimson Tide's reliable defense is stingy and has allowed a little more than 16 points per opponent this season.
If this should become a high scoring game, the Bayou Bengals from Baton Rouge will have a good chance to knock Alabama out the lead in the SEC West with only a few games left to be played in November.
With an LSU win, Ole Miss also jumps right into the title picture once again, too.  The 7-1 Rebels outscored LSU 55-49 earlier in the year after losing to Alabama 24-10 the previous week.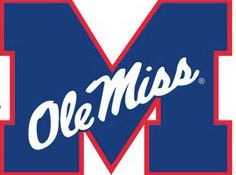 Ole Miss has a tough road ahead, too.  The Rebels must take down Texas A&M in Oxford this Saturday (11AM on ESPN) and then will face a daunting road trip to Athens, Georgia to play the Bulldogs on November 11.  Nobody said it would be easy!
If Alabama beats LSU, the SEC West will be theirs if they can vanquish both Kentucky (now 5-3) and rival Auburn (now 4-4).  Both of those games are on the road, though.
Thanks for the memories, CBS!  You have brought us decades of entertaining SEC Saturday afternoon college football games – all without making fans pay to watch your games on cable TV.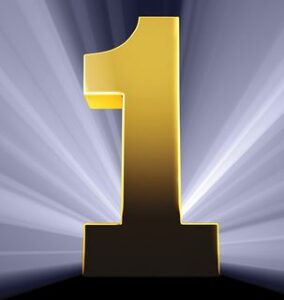 Now, on with this week's countdown!