Podcast: Play in new window | Download
Subscribe: RSS
It's almost time for March Madness!  This year, there are at least five Texas men's college basketball teams hoping to gain the ultimate home court advantage with the Final Four being played in Houston, Texas.
The #1 team in the land this week is none other than the Houston Cougars.  The 27-2 Coogs have been a top-5 team for most of this college basketball season.
In addition to #1 Houston, the AP has ranked Baylor (Waco) at #7.  The University of Texas (Austin) is another top-10 team at #9.  The Horned Frogs of TCU (Fort Worth) are excellent in basketball in addition to football this year.  TCU is ranked #22 this week.  From the SEC, Texas A&M (College Station) comes in at #24 this week.
Despite being the largest of the 48 contiguous US states in land mass, Texas doesn't win a lot of national championships in several men's sports.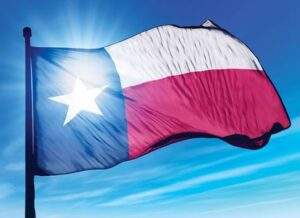 Baseball has been the state of Texas' most successful major sport.  The University of Texas has six titles (1949, 1950, 1975, 1983, 2002, and 2005) with Rice grabbing a national title in 2003.
In football, the state of Texas has captured only five national titles.  TCU (1938), Texas A&M (1939), and three for the University of Texas (1963, 1970, and 2005).
When it comes to college basketball, the men's side is woefully behind the women in national titles for their trophy case.
The NCAA didn't even begin its women's basketball tournament until 1982.  Despite lagging the men's sport by over forty years, women's basketball teams in the Lone Star state have accumulated six national titles in the sport.  Texas (1986), Texas Tech (1993), Texas A&M (2011) have one trophy apiece.  The women's team at Baylor already has three championships to their credit (2005, 2011, and 2019).
Men's college basketball in the state of Texas has just two national titles.
Texas Western College (now the University of Texas – El Paso) captured the NCAA men's basketball championship in 1966.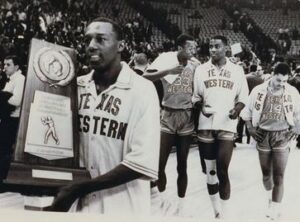 The unheralded program rolled to a 28-1 season record.  They took down the legendary Kentucky Wildcats coached by Adolph Rupp in a historic national championship game to secure the state's first national title in men's basketball.
It would take another 55 years for Baylor to become just the second Texas-based men's college basketball program to win a national championship in 2021.   Baylor, like Texas Western, was an underdog in the title game.  Gonzaga came into the game as the #1 overall seed and was attempting to finish the year as the first unbeaten men's college basketball champion since the 32-0 Indiana Hoosiers in 1976.
One Texas-based men's college basketball program has come tantalizingly close to winning a national title or two.
The University of Houston became a dominant college basketball program for several decades beginning in the late 1960's.  Coached by the late Guy V. Lewis, the Houston Cougars would challenge Coach John Wooden's UCLA Bruins on several occasions.
At the time, UCLA completely dominated men's college basketball.  From 1964 through 1975, the Bruins won the NCAA men's championship ten times.
In January 1968, the University of Houston (led by talented All-American 6'9" Elvin "The Big E" Hayes) captured an unforgettable 71-69 regular season upset of the mighty top-ranked UCLA Bruins.  The Bruins were led by 7' 2" center Lew Alcindor (who later changed his name to Kareem Abdul-Jabbar after entering the NBA).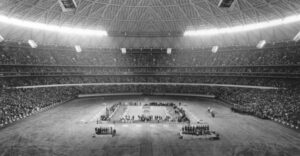 This historic match-up of the two top college men's basketball programs was played in the Houston Astrodome.  More than 52,000 people were in attendance in this cavernous facility (where the basketball court was placed nearly fifty yards away from the nearest paying customer).  Millions of fans watched the game at home via television.
The smashing success of this nationally televised match-up caused an increase in television coverage for men's college basketball games and fueled the rise of the NCAA "March Madness" basketball tournament in the years to come.
Once again in the early 1980's, the University of Houston returned to the top echelon of college basketball.  The Cougars' aptly nicknamed "Phi Slama Jama" teams featured incredible fast breaks and thunderous dunks.  Future NBA stars Clyde "The Glide" Drexler and Hakeem Olajuwon led the team as it advanced into the NCAA's Final Four three straight years from 1982 through 1984.
Unfortunately, the Houston Cougars fell short on each occasion.
Decades later, the University of Houston is still trying to win its first NCAA men's basketball championship.
The 2023 version of the Houston Cougars might be the team which finally breaks through.
The Coogs play in the American Athletics Conference.  Ranked #1 in the country with a 27-2 record this week, Houston allows the fewest points per game (55) of any major college basketball team.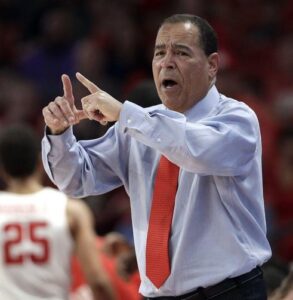 Coach Kelvin Sampson's team also leads the nation with an incredible average winning margin of more than 20 points per game.  That's a full five points higher than any other team in America.
Led by senior guard Marcus Sasser at 17 points per game, Houston has four players scoring in double figures while a fifth is averaging nine points per outing.  Even when their offense isn't rolling, Houston's defense keeps them close in every basketball game.
With this year's NCAA Final Four scheduled to be played in Houston's NRG Stadium (less than ten minutes from the U of H campus), the Houston Cougars would love nothing better than to have a large home crowd cheering for them at this year's Final Four.
Another Texas men's basketball team is savoring the idea of playing in the Final Four in Houston.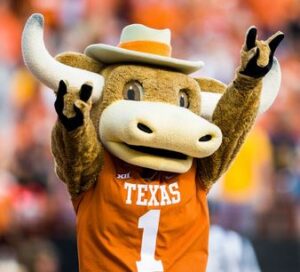 Located 170 miles to the west in Austin, the #9 Texas Longhorns have been a regular participant in the NCAA March Madness tournament.  However, the Horns have yet to win their first men's national basketball title.  Texas has advanced into the men's Final Four just twice in 1943 and 2003.
This year, Texas has remained a consistent Top Ten basketball program while playing in the extremely competitive Big 12 Conference (which sports five teams in this week's AP Top 25 rankings).  The Longhorns feature four players scoring in double figures led by senior guard Marcus Carr with nearly 17 points per game.
In Fort Worth, the #22 TCU Horned Frogs have surprised many basketball fans this season.  The Frogs jumped out of the gate quickly at 13-1 and vaulted into the AP Top 10.  In recent weeks, TCU has lost momentum (along with five of its last seven games) and has nearly fallen out of the top 25.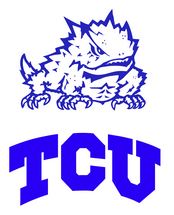 Junior guard Mike Miles leads TCU's scoring at 16 points per game.  He missed several games due to a knee injury earlier this season but has returned in time for March Madness.  This year's Horned Frogs men's basketball team is capable of pulling a big upset (winning at Kansas by 23 points earlier year).  Unfortunately, the Frogs have played inconsistently from game to game.
The fourth Texas team in this basketball group is #7 Baylor.  The 2021 national champions have been on a roll since the start of the new year.  The Bears have won 12 of their last 15 basketball games.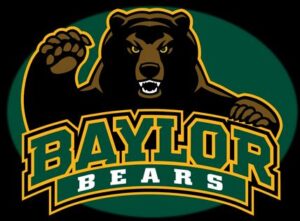 Baylor is led in scoring by a freshman guard.  Keyonte George tallies nearly 17 points per game but injured his right ankle during a recent outing against Texas.  Baylor needs him at full speed in order to make a long run in the NCAA tournament this month.
The fifth Texas team to be ranked in this week's AP Top 25 is Texas A&M of the SEC.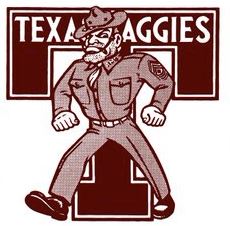 Like Baylor, Texas A&M has been on fire to start 2023.  The Aggies have won 16 of their last 19 games and trail only #2 Alabama in the SEC standings with a gaudy 14-3 conference record.
Texas A&M features a balanced scoring attack and tough team defense.  Sophomore guard Wade Taylor IV is scoring 16 points per game while converting 86% of his free throw attempts.
Former Virginia Tech coach Buzz Williams was hired by the Aggies in 2019 to resurrect a floundering Texas A&M basketball program.  After winning 27 games last season, the Aggies have improved their SEC conference record this year by consistent defense.  Texas A&M is allowing less than 66 points per game.
With five Texas teams in contention to win this year's NCAA men's basketball championship, could this be the year that the Lone Star state captures its third national hoops title?
College basketball fans in Texas will go bananas if the University of Houston, Texas Longhorns, TCU, Baylor, or Texas A&M (or a combination of any of those five teams) should make it all the way to Houston's Final Four event in another month.
That would make for some serious March Madness moments in Houston.
If one of these Texas teams should prevail and cut down the nets after winning the final game of the season in Houston, it would be one very big Texas-sized Lone Star State shining moment (and party)!